Getting into a yoga routine offers a wide range of health benefits including muscle strengthening, flexibility improvement, a wider range of motion, and more. Arguably, the hardest part about getting into yoga is starting for the first time. If you are thinking about trying your first yoga class, here are 5 tips to help you get started. Before you know it, you will be practicing yoga consistently!
Yoga Apparel: What Should I Wear To My First Yoga Class?
Consider wearing something stretchy and comfortable to your first yoga class. You want your outfit to accommodate your full range of motion. The ideal yoga outfit varies slightly depending on what feels most comfortable to you and the type of yoga class you attend; for high-intensity yoga classes, you might consider wearing something well equipped to handle sweat, as well as bringing an extra towel into the class with you. You do not need to wear your shoes and socks into your yoga classes, so you might also consider wearing shoes that are easy to remove before class.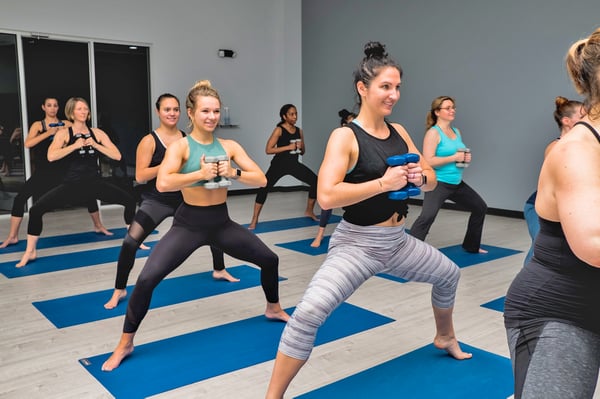 Yoga Accessories: Do I Need A Yoga Mat?
Yoga practices are often done on a mat, but do you need to bring a mat to your first yoga class? If you are committed to sticking with yoga, a mat might be a worthwhile investment; however, if you want to give yoga a try before purchasing a mat, you will likely find that your yoga gym has free in-house mats for you to borrow. Contact the location before attending to ensure that they have everything you need to get started.
Yoga Difficulty: Is Yoga Difficult To Begin?
While some are more naturally inclined to yoga than others, this practice can be beneficial to any participant. It is never too early or too late to begin practicing yoga. While it may be challenging at first, the longer you attend yoga classes, the easier it will become! It might take a few classes before you feel comfortable and begin to feel the benefits that yoga offers, but over time you may begin to see your flexibility, range of motion, strength, endurance, and mindfulness improve significantly.
Yoga Variations: Which Yoga Class is Right For Me?
Yoga is ideal for beginners and participants of all levels because the practice is extremely modifiable. However, there are still multiple types of yoga classes to consider, and the perfect yoga class for you depends on your fitness goals, interests, and current fitness level. Some of these classes include: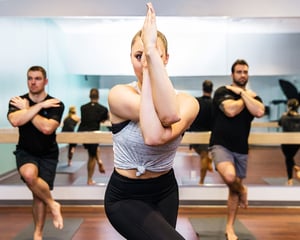 Check out the class schedule for the location nearest you, and read the yoga class descriptions to decide which yoga class fits your preferences. If you are still unsure, consider contacting the location to speak with an expert. They can advise you on which class best meets what you are looking for in your first yoga class.
Yoga Costs: Where Can I Find A Yoga Free Trial?
Many yoga studios will want you to commit to the practice before you have the chance to decide whether or not yoga is right for you. When trying your first yoga class, consider finding a fitness location that offers a multi-day free trial. This gives you the time you need to try one or more yoga classes before investing in a membership.
O2 Fitness Yoga Offerings | Yoga Classes Near Me
O2 Fitness is your local yoga studio, workout gym, personal training hub, and fitness community all wrapped up into one. Our wide range of yoga classes is sure to accommodate your workout interests and help you reach your fitness goals. O2 Fitness offers yoga classes in Charleston, Mount Pleasant, Greensboro, Raleigh, Chapel Hill, Wilmington, and more. Contact your local O2 Fitness location to get started today!
---