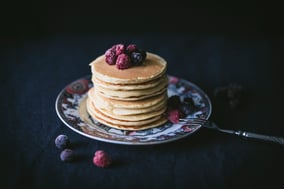 If you're still scrambling for some last minute Valentine's Day plans, don't worry. O2 Fitness has got you covered. Now we know that you and your swolemate will be hitting the gym on Saturday morning together, right? And chances are you will both need some fuel to get through you workout. So why not serve them up breakfast in bed with a protein packed meal. These delicious Chocolate Raspberry Protein Pancakes are just the thing that will curb your sweet tooth while giving you the energy you need to attack that Valentine's Day workout.
We love the combination of raspberries and chocolate. It's sweet, tangy and slightly seductive. What better pair could you ask for on Valentine's day? In our February Food of the Month post, we discussed how unsweetened cocoa gives you that chocolatey flavor with the least amount of sugar and all the health benefits of flavanols. (If you missed that, you can catch that post here)
Okay enough talking about these pancakes, let's get cooking!
Chocolate Raspberry Protein Pancakes
Pancake Ingredients:
1 scoop Supplement Rx Building Blocks Protein (Creamy Vanilla)

3/4 cup egg whites (or 4 egg whites)

1/2 cup oatmeal (uncooked - we used Quick Oats)

1 tablespoon unsweetened cocoa powder

1 cup unsweetened almond milk

1/2 cup raspberries (we added a bit more because we love raspberries!)

1/2 tsp baking powder
Raspberry Sauce Ingredients
1 tablespoon Coconut oil

Handful of raspberries

1/2 tablespoon cocoa powder

1 tablespoon natural honey
DIRECTIONS:
Place raw, uncooked oatmeal in a blender or food processor and blend until it becomes fine flour.
Add 1/2 the raspberries, eggs, milk, protein powder, cocoa and baking powder and pulse blend until smooth.
Toss in a bowl with other half of raspberries.
Place a skillet on medium-high heat and grease with cooking spray. Measure out about 1/8 cup or 2 tbsp of batter per pancake.
Cover the pancakes while they cook to help the inside cook faster.
Cook them for about 45 seconds to 1 minute on the first side, and then about 30-45 seconds on the other side.

To make the sauce:
In small saucepan, heat up coconut oil
Add raspberries and cook down into a sauce.
Add cocoa and honey
*Note: Raspberries are very tart, so if this sauce isn't sweet enough for you, you can make with strawberries instead
To make it less chunky and more saucy , you can blend it in blender.
This recipe made the exact stack above, about 6-7 pancakes, so if you need more for you and your sweatheart, just double it.
Have your tested out any of our recent SRX recipes? We've had several of you tweet and instagram us your recipes. Keep telling us what you think!
---