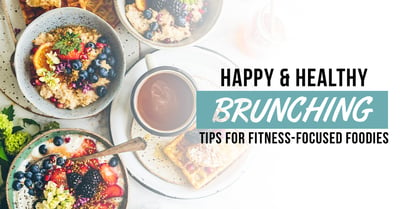 Brunch is a popular weekend activity for many of us, but having fun at brunch can be a challenge for someone who wants to reach their fitness goals fast.
With all the tempting options on the menu, it's easy to overindulge and feel like you just undid all the hard work you put in at the gym. However, with a bit of planning and mindfulness, enjoying a healthy and happy brunch is possible without sacrificing your fitness routine!
Keep reading to learn our top tips for fitness-focused foodies who want to brunch and hit their fitness goals!
But before you and your friends head out to brunch, it's always great to get a workout in to build up your appetite for some delicious food. Bring them with you to a studio fitness class, a small group training, or just a quick lift at your local gym.
Pick Protein!
We know that high-protein meals are great for helping you feel fuller while keeping your plate healthy and balanced. Even though you're not eating your meal prep, you should still try to find these protein-packed options!
Eggs are great for starting your day with protein (even if that day starts at noon for brunch.) But don't feel like you have to stick with the same bland, old scramble you eat at home. There are plenty of brunch-worthy options that won't leave you feeling like you missed out!
Build your own omelet. Most restaurants will have this option on their brunch menu, so use it to load up your standard eggs with your choice of fresh veggies and meats. So don't be afraid to get fancy!
Try Eggs Benedict with the hollandaise sauce on the side. It's the same deal here as the "dressing-on-the-side" healthy eating trick with your salads. A little goes a long way with Hollandaise sauce, so you might like this option even more.
Frittatas are easy to add tons of veggies to, and unlike quiche, they come crustless. The frittata is the perfect dish to keep things light and fresh (or if you're going to split one of those delicious, indulgent sides with the table!)
Be a Side Dish Snob.
So you picked a delicious protein-packed entree and need to choose the side. You'll likely find that most dishes will come with either a side of hashbrowns, grits, or toast.
We suggest opting for the toast and choosing a healthier, whole-grain bread like rye or sourdough. (Hashbrowns are typically tossed into the fryer, so they won't be the healthiest option on the menu.)
You can also substitute with fruit or a side salad instead. Will you pay more? Maybe, but you're worth it!
Sip Smart.
Alcohol is often a big part of brunch, but it can be a major obstacle to your fitness goals because those liquid calories can add up fast.
You can try to pick lower-calorie options like light beers or Bloody Marys (bonus points if you eat the veggies the fancy ones come with!)

But if you can only imagine brunch with a mimosa on the side, try asking for fresh juice or fruit puree instead of artificial sugars and sweeteners. Or you might even want to wait until the end of your meal and use the natural sweetness of the mimosa as your "dessert."
Consider also alternating alcoholic drinks with water or sparkling water to stay hydrated for the rest of the day!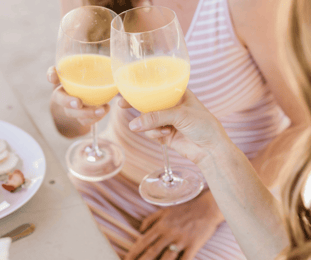 Refer a friend to try O2's 21-day free trial, and you could win a private yoga class with free mimosas!
Indulge Yourself a Little Bit.
It can be hard to resist the sweet smell of fresh-baked goods, act like you didn't see the Nutella french toast brunch special on the menu that day, or limit yourself to just one biscuit from the complimentary plate that the table got.
You don't have to say no to everything. It's brunch, and you're here to enjoy yourself!
But you do need to choose wisely. Know your weaknesses — if yours are cinnamon buns or beignets, leave them for someone else. Or ask your waiter to skip the bread basket and bring a bowl of fresh fruit to the table instead. You'll start your meal with bright, fresh, delicious flavors that won't leave your stomach feeling bloated before you even start eating.
Takeaways...
Just because you want to reach your fitness goals fast doesn't mean that brunch can't be a part of your weekend ritual anymore. No matter how excited you are about your new diet or workout program, you'll meet a Sunday brunch table that makes you want to forget about it.
Have some fun. Indulge a little. ENJOY it! No healthy routine will last long enough to make life-long changes if it doesn't let you enjoy the moments you love.
So find your balance by hitting the gym or the park for a little pre-brunch exercise with your friends, do a little planning, and use these strategies for a brunch experience that will leave you feeling happy, healthy, and on track to crush those fitness goals!
---