Column written by our fabulous Chris Mitchell in Wake Living Magazine!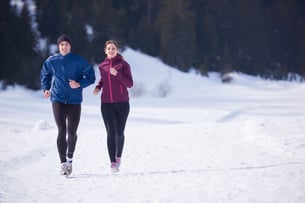 Keep fit this season
Cooler months don't mean wider waistlines
by Chris Mitchell, MSW
Just because it's winter doesn't mean we need to hibernate and gain weight. Here are some tips to keep your winter a healthy, active and happy one.
Don't stop exercising outside just because it's cold. It actually can be invigorating. Just be smart about the temperature, and layer up accordingly. Also make sure to cover up your head and hands, where most body heat escapes, and be careful of the roads after a freeze. My family and I love taking evening walks around our neighborhood around Christmas to see the beautiful holiday decorations. It's good exercise, and it's quite entertaining.
Head to the gym. Fitness clubs work hard this time of year to offer the best group exercise and fitness training opportunities available. January is a time when people are most motivated to exercise, and it's also a time when fitness professionals try to bring the most fun and excitement available to keep people motivated beyond New Year's resolution time.
Eat winter foods; they're good for you. Root vegetables, citrus fruits, grapes, pomegranates, pecans and lettuce are plentiful this time of year. North Carolina Farm Fresh even offers a seasonal produce availability chart on its website at www.ncfarmfresh.com. This is a great time to make tasty, nutritious comfort foods like grilled vegetables, stews, soups and desserts (visit www.myrecipes.com for some wonderful, easy and healthy seasonal recipe ideas). Add a little spice with turmeric, ginger and cinnamon, which add flavor to winter foods and hot beverages like cider, tea, and broth.
Have some zinc handy. Recent studies have shown that when taken immediately after symptoms begin, zinc can help eliminate or reduce cold complaints. Aromatherapy also can help ease cold symptoms naturally. Just add a little eucalyptus and peppermint essential oil into a shower or bath, or spray some lavender or eucalyptus on your pillow before bed.
Get your vitamin D. Seasonal depression is more common this time of year, and additional vitamin D can help during winter's shorter days. Take calcium supplements with vitamin D and magnesium for maximum effect, and make sure to get extra omegas through things like fish, walnuts, flax seeds, and supplements.
Chris Mitchell, MSW, is a certified fitness instructor and personal trainer at O2 Fitness, which has locations in Cary, Fuquay-Varina, Raleigh, and Chapel Hill. To learn more, visit www.o2fitnessclubs.com.
---