Fats are bad, right? With the popularity of low-fat diets and low-fat food products, it's common to want to avoid any and all foods that appear high in fat. The truth is, not all high-fat foods are bad. In fact, good fats exist and play an important role in improving heart health.
Editor's Note: This post is authored by Beth Conlon, PhD, MS RDN, a Visiting Professor at College of Saint Elizabeth.
The Dietary Guidelines for Americans 2015-20201 lifted a longstanding limit on the percentage of calories from total fat. Prior DGAs recommended up to 35% of daily calories from fat as part of a well-balanced diet rich in fruits, vegetables, whole grains, legumes, nuts/seeds, and lean proteins. However, instead of adopting the recommended healthy eating style, many Americans replaced fats with refined or processed carbohydrates and added sugars. Diets high in refined carbohydrates are risk factors for dyslipidemia and cardiovascular disease. Instead, the DGAs1 now emphasize a healthy eating style that optimizes types of dietary fat. To reduce risk of cardiovascular disease:1
Minimize your intake of trans fats (commonly found in commercial baked goods and fast fried foods)
Consume less than 10 percent of calories per day from saturated fats (sources include most solid fats, such as butter and animal fats)
Increase your intake of polyunsaturated fats (sources include fatty fish like salmon, tuna, and mackerel; flaxseeds and walnuts; and sunflower, safflower, soy, and corn oils)
Increase your intake of monounsaturated fats (sources include olive and canola oils, peanuts, and avocados)
With no upper limit placed on your intake of polyunsaturated and monounsaturated fatty acids.
Are you looking for fresh ideas, or are you ready to start making heart-healthy changes to your diet? Here are five quick and easy snack ideas to increase the heart health of your diet:
Almond butter and strawberries on a slice of whole grain bread or wheat alternative. Almonds are rich in monounsaturated fats, fiber, antioxidants, and other nutrients. Pair on top of whole grain bread with a fruit, such as strawberries, instead of jelly or jam to reduce added sugars.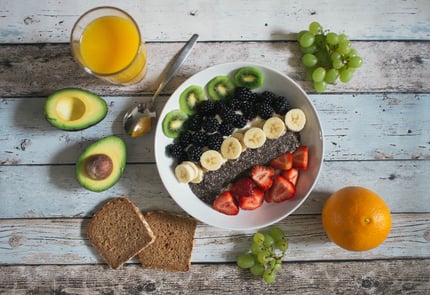 Avocado Chocolate Mousse. A fun twist on the popular avocado, a fruit rich in monounsaturated and polyunsaturated fats. Mix a ripe avocado with cocoa powder, milk or milk alternative of choice, vanilla, and a dash of salt. Who knew chocolate mousse could be so good-for-you? (see this recipe by Chocolate Covered Kate

)
Handful of assorted nuts with a piece of fruit. Nuts are a good source of polyunsaturated and saturated fats. Paired with a piece of fruit, this high-fiber snack is packed with sweetness and nutrients to help keep you satiated.
Olive tapenade with whole grain crackers. Olive tapenade can be simple to make or find pre-made at your grocery store. Olives are one of the best sources of monounsaturated fats and make a great snack or appetizer with whole grain crackers.
Enhance your shake or smoothie with heart healthy oil. If you enjoy protein shakes or smoothies, consider adding heart healthy oil, such as flax or hemp, next time. A half or whole tablespoon of oil may make the consistency smoother with little to no noticeable taste change.
Source
U.S. Department of Health and Human Services and U.S. Department of Agriculture. 2015–2020 Dietary Guidelines for Americans. 8th Edition. December 2015. Available at http://health.gov/dietaryguidelines/2015/guidelines/
Beth Conlon, PhD, MS RDN, is a Visiting Assistant Professor at College of Saint Elizabeth. She has a PhD in Clinical Investigation, Biomedical Sciences program, from the Albert Einstein College of Medicine. She is passionate about developing and implementing behavioral-based nutrition education programs to promote chronic disease prevention and management, reduce health disparities, and strengthen evidence-based nutrition practice. Views expressed are my own and do not necessarily reflect the official policy or position of any other agency, organization, employer, or company.
---