Father's Day weekend is right around the corner. Instead of scrambling to find the perfect last-minute father's day gift for dad, spend some time together and enjoy a classic cookout!
But Dad deserves better than just some simple hotdogs and cheeseburgers. Right?
Spice things up at your grill out this year with these healthy grilling recipes that will win dad (and your grilling buddies) over all year long!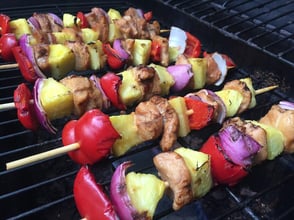 Ginger Pineapple Kabobs

Ingredients:
Bamboo skewers

1 lb. raw chicken breast, boneless, skinless, cut into 1-inch pieces

1/4 cup reduced-sodium soy sauce

2 tsp sesame oil

2 tsp grated fresh ginger

1 pineapple cut up into 1-inch chunks

1 Red bell pepper, 1-inch chunks

1 Red onion, 1-inch chunks

Salt & Pepper (to taste)
Preparation:
Soak bamboo skewers in water for 30 minutes (this is key, so they don't catch on fire)

Place chicken in a re-sealable plastic bag; add soy sauce, oil, and ginger; seal bag and shake gently to mix. Refrigerate for at least 30 minutes or overnight to marinate.

Preheat gas or charcoal grill on medium heat.

Place a piece of chicken, pineapple chunk, bell pepper, and onion onto a skewer. Repeat so the skewer has an even amount of colorful ingredients. Discard marinade that contained raw chicken.

Grill skewers on a covered grill for 4 to 5 minutes on each side, or until the chicken is no longer pink in the middle.

Serve while hot and enjoy!
Chipotle Chicken Burgers
Ingredients:

Burger Patties
1 lb ground chicken

1/2 medium yellow onion, minced

1/2 red bell pepper, minced

1 large garlic clove

2-3 chipotle peppers in adobe sauce, finely chopped

1 TSP adobo sauce from chipotle peppers

Lime juice from 1/4 lime

Small handful of fresh cilantro (optional)

Salt & Pepper (to taste)

4 slices white cheddar cheese
Preparation:
Add ground chicken, onion, bell pepper, chipotle, adobo sauce, and lime juice into a large bowl, and season well with salt and Pepper. Use your hands or a spatula to mix ingredients together carefully.

Divide chicken mixture into 4 patties. (To help prevent the mixture from sticking to your hands, rub a small amount of cooking oil onto the palms of your hands!)

Heat grill and cook for roughly 6 minutes on each side or until the internal temperature reaches 165 degrees.

Once burgers are cooked, turn the heat to low and top with cheese.

Sever on a bun or lettuce with your favorite toppings and condiments, and enjoy!

Salmon Kebabs with Sweet Chili & Lime Dip
Ingredients:
4 TBSP Sweet Thai Chili Sauce
Juice from 1 Lime
4x 5oz Skinless Salmon Fillet, cut into large chunks
2 Bell Peppers
1 Large Zucchini
Oil (for drizzling)
Salt & Pepper (to taste)
Preparation:
Mix the sweet chili sauce with the lime juice in a bowl. Pour half of the mixture into a serving bowl to be used as dip.
Put the salmon, zucchini, and bell peppers onto skewers and brush with the remaining chili sauce. Let the kebabs marinate for 20 minutes in the fridge.
Shake off the excess marinade from kebabs, drizzle with oil, season with salt and Pepper, and grill for 8 minutes, turning occasionally until the salmon is fully cooked.
Serve hot with the dipping sauce, and enjoy!
Want to learn more ways to have fun and keep on track with your fitness goals? Subscribe to our blog to stay up-to-date on how you can stay on track and crush those goals.
Tell us what is your favorite way to keep your health goals on track during holiday celebrations!
---