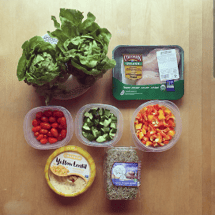 As a personal trainer, one of the biggest obstacles my clients tell me is in their way of achieving all of their health and fitness goals is time. And I get it, we are so busy these days! When you get home from a long day of work, the last thing you want to do is take the next 45 minutes, or more, to make a tasty, nutritious dinner.
But what if there was a way you could enjoy a delicious and healthy warm dinner every night in just 2 minutes and no fast food stops?! The secret is meal prepping! I'm going to lay out some easy steps to get you ready to prep like a pro and tell you why I have been prepping for myself for years now!
What is meal prepping?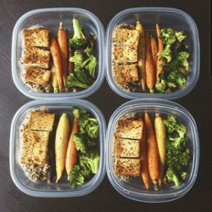 Before we dive too deep, let me fill you in on the secret sauce that has helped me and so many others stay on track with nutrition, even during the busiest of times. Meal prepping is essentially just a fancy way of saying "organized leftovers". And everyone loves some good leftovers. Why? Because it's easy, and that's the point!
Personally, Sunday evenings are my time to prep. I cook for an hour or two, then divvy up all of the food into 5 separate containers - one for each night of the week. Then each night, all I have to do is grab my meal from the fridge, warm it up, kick back and enjoy!
What will I need?
Aside from your ingredients and a kitchen, the most important thing you will need to successfully prep is some resealable food storage containers. My favorites are glass Pyrex containers because they are easy to store. I've also found they reheat my food more evenly so it's not scorching hot on the outside but still cold in the middle, like most plastic containers.

The size and shape of the containers is up to you and how you prefer to prep. I usually like to portion out my meals right away, so I use several smaller containers. But with certain recipes, like soups or curries, I will store in bulk in one or two larger containers and portion out day by day.
Packing snacks? Here are some of my favorite snack-sized containers that can fit easily into a lunch box that could be taken to work or school.
Finding prep-friendly recipes
Sometimes the hardest part of cooking is finding recipes, but check out some of these apps to help you save time and find delicious, healthy recipes!
And if the recipe only gives 2 servings, just double or triple it to give you the desired amount of meals for your week. It's easy, especially when the stove is already hot!
The Pros of Prepping

Cook once - save time. Shop once - save money (and time). And with all that prep done - save the struggle and crush you health and fitness goals!
How exactly can a bunch of containers of food help you reach your wellness goals? Think of it like this: how many times have you stopped and gotten some kind of fast food because you didn't feel like cooking? Now, same situation BUT you have your meal prep at home and all it needs is 2 minutes in the microwave. That's an easy choice right there - warm, delicious, nutritious food that will get you one day closer to your goals!
My Kitchen Staples
Personally, I've been regularly prepping my meals for a few years now. Here's my list of key ingredients I always like to have in my house, and some of my favorite snack ideas:
Refrigerator + Freezer:
Eggs
Ezekiel bread
Milk (I prefer plant-based)
Maple syrup
Yogurt (Greek yogurt is a great protein source)
Lemons or lemon juice
Hummus
Frozen fruits and vegetables
Pantry:
Cans of beans and chickpeas
Your favorite cooking oil(s)
Coconut milk
Rolled oats
Tahini
Dry lentils (I like red and green the best, so versatile!)
Low-sodium broths of choice
Peanut and/or almond butter
Chia seeds
Whole grain pasta
Honey or maple syrup
Coconut or liquid aminos (or soy sauce in the fridge if you prefer)
Fresh garlic
Canned tuna
Brown rice
Spices:
Salt and pepper
Cumin
Smoked paprika
Lemon pepper
Garam masala (Indian spice used in many curries)
Garlic powder
Onion powder
Turmeric
Ground cinnamon
Snacks:
Check out the pictures below for more inspiration!
DIY trail mix
Fresh fruits
Smoothies
Granola in milk or yogurt
Hummus and veggies
Nutrition bars (Pro tip - make sure you can SAY all the ingredients, keep it simple!) Pre-prepped mini muffins (Pro tip - add protein powder)
| | |
| --- | --- |
| | |
| Watermelon and coconut | Simple DIY Granola |
| | |
| --- | --- |
| | |
| DIY Trail Mix | Fruit/Veggies & Hummus |
---