We are thrilled to welcome new pop-up classes to our Group Fitness schedules this summer including martial arts-based training and highly-anticipated Kids Fitness programming!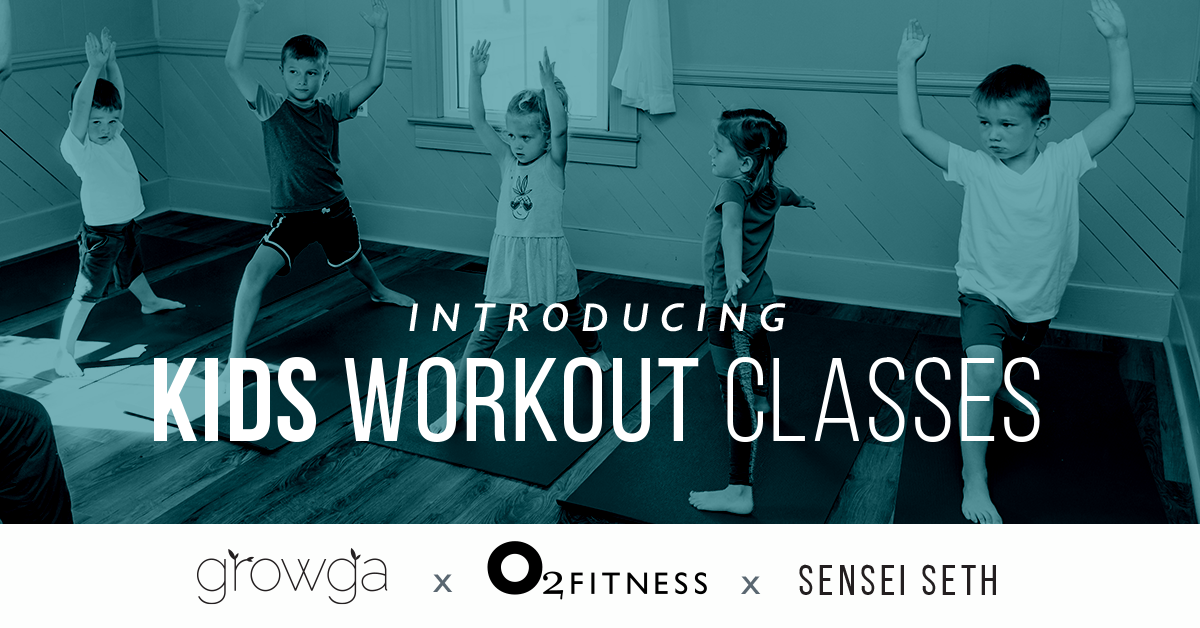 In partnership with Growga and Sensei Seth, O2 Fitness will be hosting these pop-up classes throughout July and August at select Triangle-area locations.
Growga is a Triangle-based organization that works to bring the important skills and lessons of yoga to children of all backgrounds. Growga classes focus on three main components: social emotional learning, yoga, and mindfulness. Bring the kids to an O2 near you this summer to try out one of the following pop-up classes:
Growga Little Sprouts
In a Growga Little Sprouts class, children learn basic social emotional learning and mindfulness elements through age-appropriate breath-work techniques, yoga, story time, and creative visualization, all approached in a fun, engaging way. Parents welcome, but not required to participate. (Ages 5 and under)
Growga Kids
Growga Kids classes for children ages 5-10 are designed to improve body awareness and encourage the development of communication and social skills through fun and engaging yoga and mindfulness exercises and games.
Family Yoga
Growga Family classes are designed for the whole family to enjoy together (appropriate for families with children ages 3 and up). These classes are centered around bringing stress relief, calm, and focus home through yoga and mindfulness, approached in a fun and accessible way for all experience levels.
In addition to these exciting Growga offerings, we're thrilled to partner with instructor Sensei Seth to bring you (and the kids!) a fresh and energizing experience in martial arts. Sensei Seth has practiced various forms of martial arts throughout his life including Karate, Muay Thai, Jiu Jitsui, and more. Come ready to fight and have fun at the following classes:
PUNCH (Adult)
A fitness-based martial arts and shadow boxing class, PUNCH kicks off with cardio intervals and core to get you centered and ready drive from your powerhouse. Finishing off with circuit stations to burn out those arms, every person gets to punch with Sensei Seth. Become a stronger you, a fighter, a champion, and perfect your punch.
Big Kids Karate
Big Kids Karate is available for children ages 5 to 10. Let your little one burn off that summer energy and learn the basics of martial arts. No prior Karate experience necessary. Get in a workout while your child enjoys a special pop up Karate class!
Don't miss the opportunity to try out these classes while you can! Check out our events calendar for where and when to catch these pop-ups this summer.
---