Submitted by Jacqui Supplee, Personal Trainer, O2 Fitness North Chatham
These cookies are a great alternative to the traditional fatty, sugary cookies we are all so used to. This is a super-easy recipe that you and your family will be sure to enjoy. Add your own touch like nuts, semi-sweet chips, bananas, apples, dried cranberries or raisins. These cookies are a great year-round treat you don't need to feel bad about!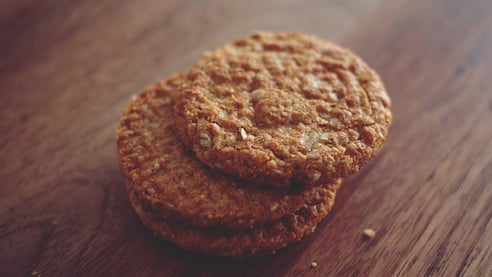 Ingredients:
1 cup brown sugar
1 ¼ cup wheat flour
2 ¼ cup instant oats
1 ½ cup applesauce
3 tbsp egg white eggbeaters (or 1 egg)
3 tsp vanilla extract
1 tsp baking soda
Add cinnamon to taste
*If you choose, add ¼ cup of nuts, dried berries, chopped apples or banana, peanut butter, or any other extras!
Directions:
Preheat oven to 350⁰.
Mix all ingredients in a bowl with a wooden spoon, and place dough on cookie sheet about an inch apart.
Bake for 8-10 minutes, let cool, and enjoy!
*This recipe makes approximately 3 dozen 1" cookies, or you can freeze the dough and make make some for later!
---