When May comes around, most people think of warm weather, summer approaching, cookouts, concerts, pools opening, and Memorial Day. What are we thinking? It's National Bike Month!
Time to dust off your biking shorts and step into the cycling studio.
Are you a biking beginner? We've got you covered. Cycling is an excellent, low-impact cardio workout for people of all ages and fitness levels. We sat down with Paul Hodges, RPM Instructor at O2 Fitness Seaboard Station, for tips on getting started with a cycling class.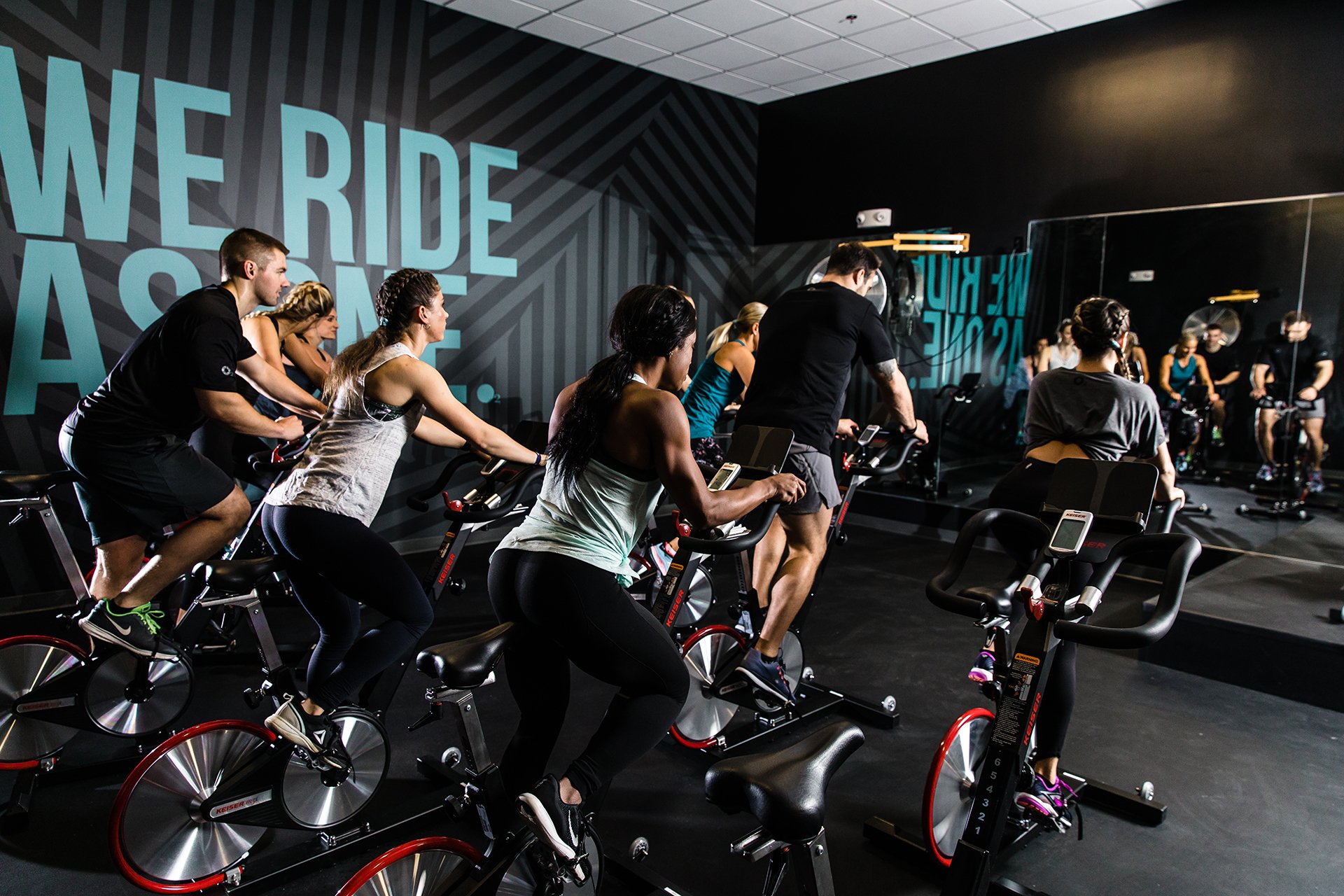 What to Wear
"You should always wear loose fitting workout clothes that allow your body to breathe," Paul said. "Biking shorts are also encouraged, as they help protect the lower portion of your body, especially since you are sitting on a saddle for quite some time in the beginning of class."
No need to buy cycling shoes – regular tennis shoes will do for all O2 Fitness cycling classes. However, "if you find yourself taking a cycling class 2-3 times a week, it's best to invest in indoor bike shoes with clips to help connect you into the pedals," said Paul.
Above all, don't forget a water bottle to stay hydrated!
Bike Set-Up
Before you hop on and start pedaling, you'll need to make sure the bike is set up comfortably for your height.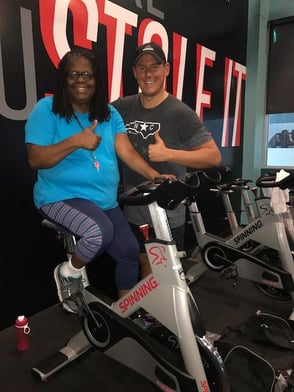 Stand facing forward next to the bike and adjust the seat height so that it's level with your hip bone.

Sit down on the seat and rotate your feet until one leg is fully extended. Your knees shouldn't be completely straight and locked, nor should they be too bent. Find a comfortable seat height so that when one leg is extended long, there is a slight bend in the knee.
The handlebars should be about a forearm's distance from the front edge of the seat. Adjust the seat horizontally if necessary to set the correct length.
When seated, your elbows should not be completely locked. Having a slight bend in your elbows will help you engage your core as well as avoid straining your lower back.
What to Expect
Maybe you're looking to get a break from the impact of running, a new twist on cardio, or toned legs for summer. No matter your fitness level, the cycling studio is the place for you. The beauty of indoor cycling is that you have complete and total control over your workout. Want an extra challenge? Turn that knob and increase your resistance or hop out of the saddle. Need to back off and breathe? Sit in the saddle and slow down.
From RPM to O2 Ride to Les Mills Sprint, you'll never be bored with the variety of cycling classes at O2 Fitness.
"RPM combines a standard 45-minute format of flats, hills, intervals, and climbs to choreographed, energizing music," Paul said. "RPM encourages participants to adjust to their bike's resistance while challenging them to move to the beats of the music, whether it be a quick burst of speed training or climbs out of the saddle."
O2 Ride is a freestyle class that varies from instructor to instructor and from day to day so you won't get the same workout twice. "One might experience a warm-up that is all climbs one week, and then the next week, it might be a class that combines interval training for a full hour," said Paul.
With any cycling class, you're guaranteed to get a heart-pumping, calorie-torching cardio workout sans the joint strain.
"It's one of the best forms of general maintenance to keep me active and less lethargic," said Paul.
Hop on and enjoy the ride! Celebrate National Bike Month by finding a cycling class near you.
---