Why hello National Blueberry Pancake Day! Why yes, there is such a thing! And we here at O2 Fitness never shy away from the chance to eat pancakes. In fact, we jumped at the chance to celebrate this "holiday." But we turned the tables a little bit and used our Supplement RX Protein Powder in this recipe to up the protein count. Which means this is a perfect pre or post workout breakfast or snack.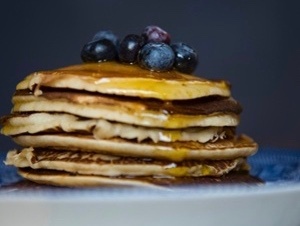 According to The Blueberry Council, blueberries are high and rich in antioxidants like vitamin C, B complex, vitamin E, vitamin A, copper (a very effective immune builder and anti-bacterial), and iron (promotes immunity by raising haemoglobin and oxygen concentration in blood). These antioxidants can boost up your immune system and prevent infections. Which is exactly what we need during winter time, right?
So are you ready to try these Protein Pancakes packed with blueberries? Here are the ingredients you'll need:
Ingredients:
1 scoop Supplement Rx Building Blocks Protein (Creamy Vanilla)

1/2 cup egg whites (or 3 egg whites)

1/2 cup oatmeal (uncooked - we used Quick Oats)

1/2 medium banana

1/2 cup blueberries (we added a bit more because we love blueberries!)

2 tsp baking powder
DIRECTIONS:
1. Place raw, uncooked oatmeal in a blender or food processor and blend until it becomes fine flour.
2. Add eggs, banana, protein powder, and baking powder and pulse blend until smooth.
3. Toss blueberries into the batter and mix using a spatula or spoon. This is where we added a bit more - less than 1/4 cup.
4. Place a skillet on medium-high heat and measure out about 1/8 cup or 2 tbsp of batter per pancake.
5. Cover the pancakes while they cook to help the inside cook faster. 6. Cook them for about 45 seconds to 1 minute on the first side, and then about 30-45 seconds on the other side.
7. Eat! YUM!
We found that this recipe makes about 5 regular size pancakes, which is perfect to share. But if you want more, just double the ingredients.
Tell us what's your favorite recipe to use Protein Powder in? We've been experimenting a lot with SRX and have lots of recipes to share. We can't wait to share them with you. Until then, happy eating!
---