Kale is a dark green leafy vegetable that provides high amounts of lutein, a nutrient important for eye health (kale contains seven times the amount found in spinach). Kale is also an excellent source of Vitamins A and K and is a good source of Vitamin C and fiber.
Whole-Grain Spaghetti with Garlicky Kale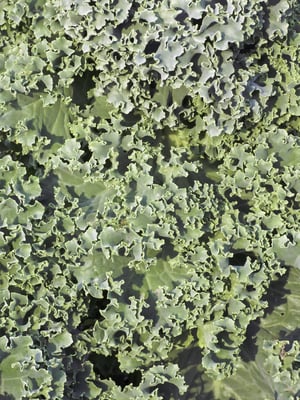 Makes 4 Servings
Ingredients:
6 ounces whole-grain spaghetti
2 tablespoons olive oil
1 medium red onion, thinly sliced
2 cloves garlic, chopped
kosher salt and black pepper
1 bunch kale, thick stems removed and
leaves torn into bite-size pieces (about 8 cups)
2 pints grape tomatoes, halved
⅓ cup chopped roasted almonds
¼ cup grated pecorino (1 ounce),
plus more for serving
Preparation:
Cook the pasta according to the package directions.
Reserve ¼ cup of the cooking water, drain the pasta, and return it to the pot.
Meanwhile, heat the oil in a large skillet over medium-high heat.
Add the onion, garlic, ¼ teaspoon salt, and ⅛ teaspoon pepper.
Cook, stirring occasionally, until beginning to brown, 4 to 5 minutes.
Add the kale and cook, tossing frequently, until tender, 2 to 3 minutes.
Add the tomatoes and cook, tossing frequently, until the tomatoes begin to soften, 1 to 2 minutes more.
Add the kale mixture, almonds, pecorino, and reserved cooking water to the pasta and toss to combine.
Serve with additional pecorino.
---