The Spartan race logo might look familiar, but what is DEKA STRONG?
Keep reading to find out everything you need to know about competing in the Deka Strong race from Spartan.
What is Deka Strong?
In Spartan's Deka race series there are 3 types of races: Deka Fit, Deka Mile, and Deka Strong. Deka Strong is a full-body workout consisting of 10 exercises or "zones" completed back-to-back for time.
Unlike the Deka Fit and Deka Mile, Deka Strong involves NO RUNNING! (*insert sigh of relief here*)
The 10 zones of Deka Strong are:
Spartan RAM Squat (30 reps)
Row 500m
Box Jump Overs (20 reps)
Medicine Ball Sit-Up Throw (25 reps)
Ski Erg (500m)
Farmer's Carry (100m)
Air Bike (25 calories)
Dead Ball Wall Overs 4ft barrier (20 reps)
Tank Push/Pull (aka a heavy sled push and pull)
Spartan RAM Burpee (20 reps)
How to train for a Deka event?
Although the 10 zones are seemingly basic, functional movements, you're going to need a little more training to really make your mark (and avoid injury!)
The Deka website offers online training options including a variety of coaches, their Spartan Fit app filled with workouts, and a Get Fit Fast 30-day training plan. Definitely not a bad thing to check out when getting ready for your first Deka Competition!
You can also join our personal training team for FREE hands-on, in-person training during a small group Power Hour session every Saturday at O2 Fitness - Morrisville. These will be hosted by Mariesa McCulloch, O2 Fitness Personal Trainer and Spartan Race Veteran!
Why should YOU compete?
This competition will give you the chance to train and improve your fitness in 10 functional areas of movement. Having the event on your calendar can be a HUGE source of motivation because you're not just going to the gym, you're training with a purpose!
When you start your Deka race, you aren't just competing against everyone else - you're competing against yourself! After all, YOU are your biggest competition.
Push your limits and reach the next milestone in your fitness journey!
Click here to register for DEKA STRONG at O2 Fitness - Morrisville on Saturday, June 25th.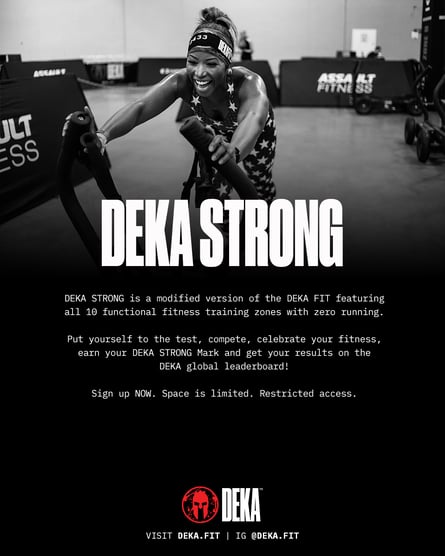 ---