Editor's Note: This post is authored by the Raleigh Distance Project.

Are you new to racing? Don't sweat it! Here are some helpful tips to have a stress-free race weekend.
Register for the race and start training! Having a goal and a plan to execute is one of the best ways to get motivated.

Research the race and get prepared for the course. Where are the hills? Are there aid stations for hydration or nutrition along the way? Will spectators be cheering? Where should your fans be standing with funny signs? It's also helpful to run part of the course before the race to make yourself more comfortable.

Take advantage of race expos. These events are awesome for getting excited about the race, connecting with volunteers and fellow runners, and minimizing stress on the day of the race. You might even snag a couple of freebies.

The night before the race, check in with your goals and details about the next day, but don't spend too much time stressing. Lay out your gear for the next morning to make sure you have everything--extra points if you take a #flatbruce photo!

On race-day morning, eat a good breakfast with something light but substantial, like oatmeal, a bagel or toast with nut butter, grits plus coffee if you like it! Caffeine improves exercise performance and will get you even more excited to run, especially if you're not used to waking up as early as the race starts. Be careful, though; make sure you do a practice run if you've never raced with coffee before. You don't want any GI distress!

When you get to the race, make sure you're there early enough to do an easy warm up. Incorporate a walk or easy jog with some active stretching. Lauren Fleshman created an awesome starting line warm-up here. Also, the bathroom lines can get pretty long, so keep that in mind when you're heading out.
After kicking butt in your race, be sure to hydrate and re-fuel as soon as possible. There will usually be water and snacks at the finish, so take advantage of free fuel! Treat yourself to some brunch (or a beer)!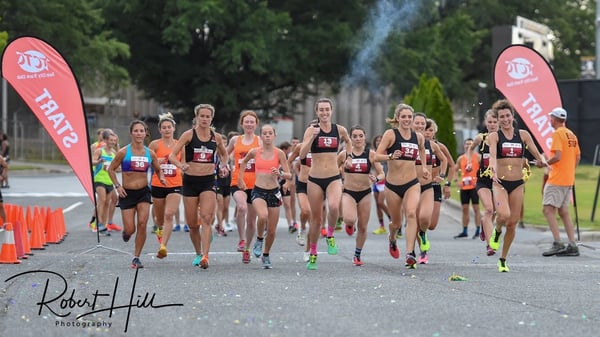 Ready to get your race on? Check out the lineup of awesome races ranging from 5Ks to half marathons coming up this fall.
---