Meet Cory.
He's a personal trainer based at our O2 Fitness Seaboard Station location in Downtown Raleigh.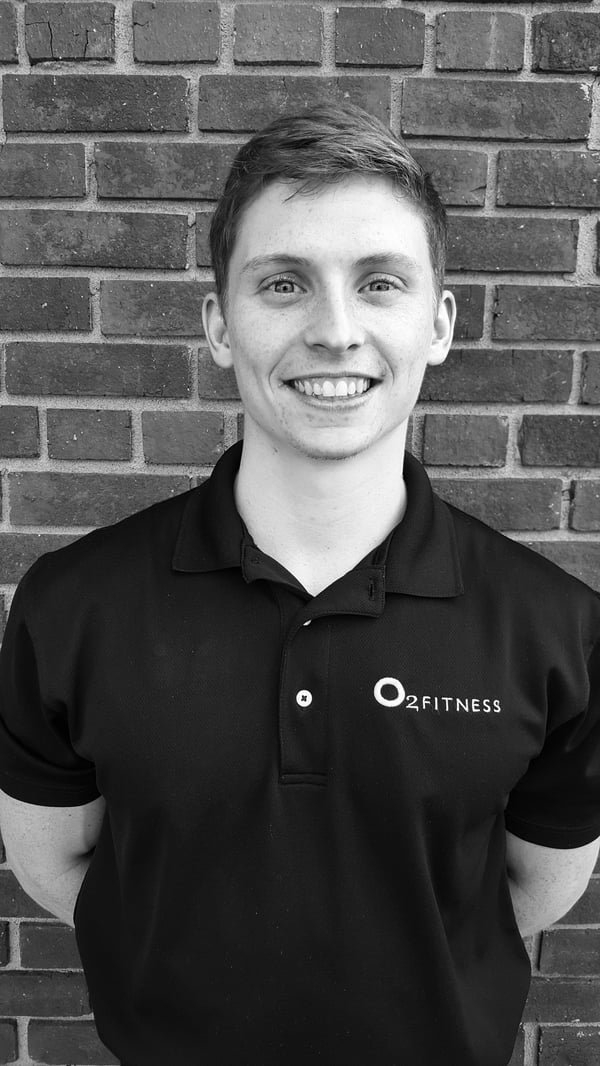 WHAT'S YOUR BACKGROUND?
Schooling:
Bachelor of Science in Business Administration: Marketing, Minor Sports Science, from North Carolina State University
Master of Science in Exercise Science: Performance Enhancement & Injury Prevention from California University of Pennsylvania. Expected graduation: August 2017
Certifications:
NCSF Certified Personal Trainer
NASM Performance Enhancement Specialist
WHY DID YOU BECOME A PERSONAL TRAINER?
I grew up playing every sport you can think of. In high school, I played soccer and started wrestling. As a wrestler I always focused on keeping my weight low (I wrestled in the 103 pound weight class).

After graduating high school, I wanted to be bigger and stronger. I started working out consistently. My hobby turned into a passion. In college I decided to get certified so I knew how to take my personal goals to the next level. I had friends and family who wanted me to train them all the time and I loved it!

This is what got me interested in training others. I knew from my sophomore year of undergrad that I wanted to train and help people.
WHAT'S YOUR FAVORITE PART OF YOUR JOB?
My favorite part of my job is definitely all the relationships I build! I have met so many great people and can gladly say that I made some sort of impact on their life.

I often get surprised at how many people there are out there that need help. So many people do not speak up or reach out for help. I have made it a mission to find those people and get them the help they need.
WHAT'S YOUR MOTTO FOR LIFE?
Do what you love and love what you do!
WHAT INSPIRES YOU?
Growth inspires me. I love seeing myself, family, friends and just people in general grow! Whether it's physical, mental or spiritual growth, I love seeing development and success of individuals.
WHY O2 FITNESS?
I liked O2 Fitness because they are genuine. O2 is known for having some of the top personal trainers in the area.

A member can expect a whole new lifestyle when they commit to a training program. Our trainers are more of coaches. We coach on lifestyle balance and nutrition, set cardio plans and layout every step of a member's workout routine. We try to make fitness easy and comfortable!
WHAT'S YOU FAVORITE CLIENT SUCCESS STORY?
My favorite client success story is with a client I have been working with for about 3 months now. Her name is Ashley Barefoot. Ashley came to the gym with very basic goals of just wanting to take advantage of a free gym membership. Her health history includes: colon cancer stage 3 survivor, two rods in her back, scoliosis and muscular mitotic dis-trophy (she's a walking warrior!). When Ashley first committed to training with me, she could not properly sit and stand. With her previous health history, she also could not move very well. Ashley and I only meet one time a month, but she follows her plan and does everything she is instructed to do.

Ashley has lost 12 pounds in three months. But most importantly she can walk in a straight line, sit and stand and move better all around!
From Ashley:

"Working out three times a week and meeting with Cory motivated me to commit to the workout! I have lost weight, built more muscle tone and am meeting my goals! He makes me want to workout. He is very encouraging and motivating! I could not have done this without Cory or O2 Fitness."
Ashley: What an inspiration you are. Good for you for taking charge of your health.
Cory: We're grateful to have such a talented, knowledgeable & personable trainer here at O2 Fitness. Thanks for changing lives.
---