Here at O2 Fitness, we are excited to welcome you to your first cycling class! Cycling is an excellent way to strengthen your muscles, get your heart rate up, lose weight, and release endorphins. However, it might feel intimidating to try cycling for the first time. No need to fear; here is what you can expect from your first cycling class: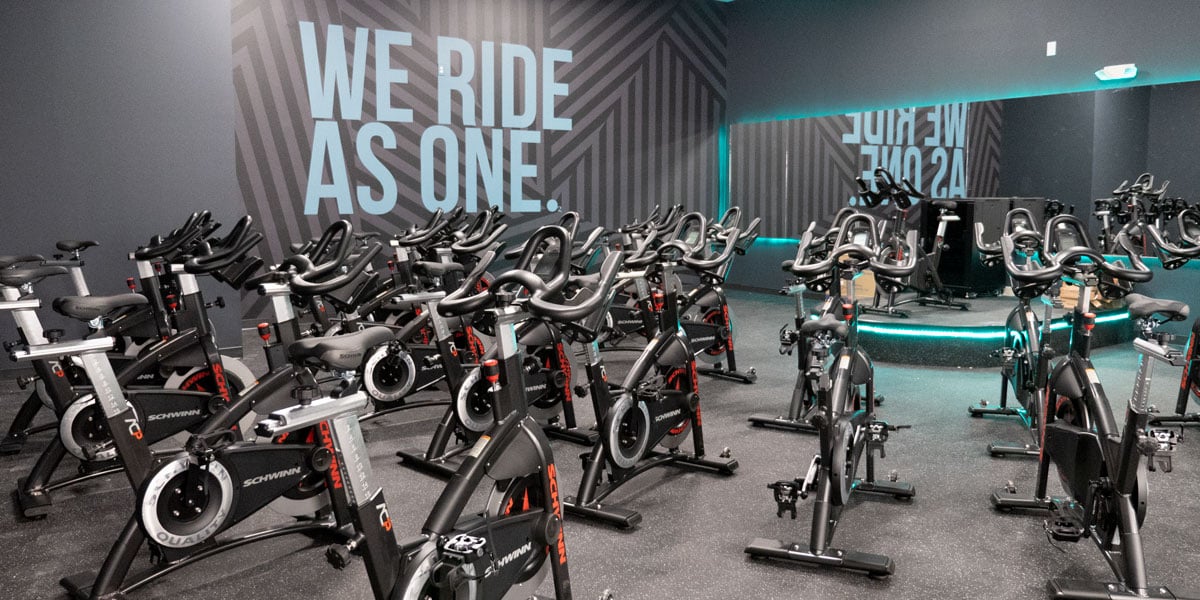 You Will Want to Arrive Early
Beyond any paperwork you may need to complete if you are new to the fitness network, there are advantages to arriving early for your first cycling class. First, there is only a set number of bikes in each fitness location—arriving early will ensure your spot in class. Because each participant is different, you will also need time to adjust your bike to your personal preferences. Your class instructor will help guide you through this process to let you know where the seat and handles should be positioned to best accommodate your height. Arriving early also gives you the time you may need to stretch or to hop on the bike, begin feeling comfortable, and ease into a warmup.
Modifiable and Accessible Classes
Indoor cycling is perfect for participants of every level. Your cycling instructor will guide and motivate you to push your limits; however, the resistance and speed that you take on your bike is completely personal, meaning that you can work at your own pace. Indoor cycling is also low-impact, making it an ideal class for individuals with joint troubles. When trying indoor cycling for the first time, you should expect a welcoming and accessible class that makes you feel great and achieve your fitness goals.
Be Prepared to Sweat
Cycling is designed to raise your heart rate, meaning that you will likely find yourself sweating during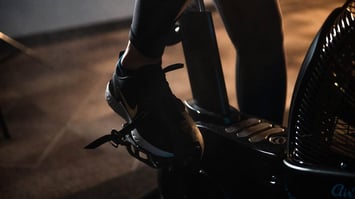 class. This means that the workout is challenging you, and that you are getting the most out of your first cycling session. However, you will want to be sure to grab a towel on your way in to keep that sweat out of your eyes; thankfully, O2 Fitness offers free towel service with your membership.
You will not need cycling shoes for our indoor cycling bikes, but you will want to make sure you are wearing athletic clothes that you feel comfortable sweating in. If you have a busy schedule after the class, you might also consider bringing a change of clothes and anything you may need to take a quick shower following your indoor cycling session.
Bring Water: You Might Experience Dehydration
With the energy exertion and sweating associated with cycling, you might feel hot and dehydrated during class. Be sure to pack a water bottle to keep you cool and hydrated throughout the class. There will be intermittent opportunities to grab your drink during your class. You can also ask your instructor for directions to the nearest water fountain if you need a refill before class begins.
Potentially Sore Muscles
As with any new exercise or workout circuit, you might find that your first cycling class leaves your muscles feeling sore. Cycling classes particularly isolate, target, and strengthen your lower body muscles. You can also engage your core during class for a more comprehensive workout. Be sure to warm up before your cycling class and stretch after your class to minimize the extent of sore muscles.
Higher Energy Levels
Despite the cardio challenge that indoor cycling provides, these classes are known for boosting energy levels and mood by releasing endorphins and getting your heart pumping. You can expect to feel energized in addition to the other benefits that indoor cycling provides, such as cardiovascular strength, endurance, and more. This makes indoor cycling an ideal workout to improve both your physical and mental health.
Where to Find Cycle Classes | Indoor Cycling Near Me
O2 Fitness has both 30-minute and 60-minute cycling classes to accommodate the needs of both beginners and experts. Here, you can find diversity in cycling classes, ranging from O2 Ride, Les Mills Sprint, and Les Mills RPM. Each of these classes are completed in our advanced and comfortable indoor cycling studios.Looking for another challenge? Consider taking your training outdoors.
O2 Fitness offers cycling classes in both North Carolina and South Carolina, including cycling classes in Raleigh, Charleston, Wilmington, Mount Pleasant, and Chapel Hill! Check out a class schedule for your local O2 Fitness location to find a cycling class near you today!
---