Preparing for the holidays with a new gym membership is a significant stride towards a healthier you, but learning to use new equipment might seem intimidating at first. You can review your local gym's training offerings and group fitness classes to help get you started, but if you prefer to start with solo equipment training, here are five gym machines perfect for beginners:

Rowing Machine
The rowing machine is a full-body workout, exercising your legs, back, arms, shoulders, and abs while providing an energy-boosting cardio element. This machine is also low-impact and easily modifiable, making it perfect for beginners. Following proper technique is key to any workout, including that of the rowing machine. Consult a fitness expert from your local gym to ensure that you are executing the rowing workout with rhythm and technique.
Bench Press Machine
Safer than free weights, the bench press machine allows you to safely explore your upper-body strength in a controlled environment. The bench press machine is popular among beginners and regular gym-goers. This machine is also adaptable, making it easy to tone down or bulk up, depending on your individual fitness goals. As you strengthen your arms and your chest, you can add weight to the machine with ease and increase your rep circuits. This makes the bench press machine an easy go-to for beginners.
Cycling Machine
Indoor cycling has several proven health benefits, including in the areas of cardio and lower-body strengthening. This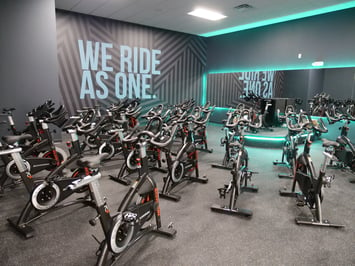 machine is popular among beginners and fitness experts due to its reliable results and low-impact nature. You can try this machine on your own or you can join in on a group fitness class for cycling guidance. Cycling instructors are trained to tailor indoor cycling circuits to optimize your workout.
Treadmill Machine
As the weather becomes colder, running, jogging, and even walking outdoors becomes more difficult. The indoor treadmills at your local gym provides a perfect solution. Get your daily run in without facing the cold weather and the ice and terrain danger it can bring. Treadmill workouts can help beginners build lower body strength and stamina while completing a health-boosting cardio workout.
Leg Press Machine
One of the most popular fitness machines for beginners is the leg press unit. This lower-body machine targets the calves, hamstrings, quads, and glutes for comprehensive lower-body fitness. You can continue to add weight to the machine as your lower body grows stronger, making it an ideal workout for beginners and experts alike.
Personal Training and Gym Machines
Personal training is an ideal way to learn about your local gym's machines and how they can help you achieve your fitness goals. This guidance can kickstart your fitness routine and machine usage to optimize your membership. Partnering with a gym that offers free introductory personal training can give you this insight without any additional cost to you.
Gym Machine Safety
Be sure to consult your gym's on-site experts if you have any safety concerns when using equipment. If you are unsure of how to properly use a machine, follow the instructions and labels listed on the surface of the machine. If there are no instructions listed or you feel like you need further assistance, it is always better to ask for help than to put your safety at risk. Be sure to ease into new machines, and do not push past your limits to risk any harm to yourself. Once you feel comfortable with new machines, you can begin to safely push past your usual limitations.
Gyms Near Me
You can find all of these gym machines and more at your local O2 Fitness location. Try them for free with our 3-day trial membership! You can find O2 Fitness gyms abundantly stationed throughout the Carolinas. This includes gym locations in Charleston, Chapel Hill, Raleigh, Mount Pleasant, Wilmington, Greensboro, and beyond! Contact your local O2 Fitness gym to get started now!
---