"The best advice I ever heard was, 'you have to pretend that you are the hero in your own story.' Once I heard that, I started to live that to be the hero in my own story."
Five years ago, Patrick found himself at rock bottom. Not only was he struggling with alcoholism, but he was constantly feeling insecure, embarrassed, and miserable in his own skin.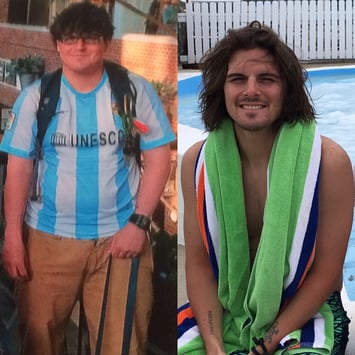 "I was severely unhappy with myself. I would avoid mirrors and my reflection because I could not stand the sight of myself," he said. "I was overweight, alone, and lost. I felt heavy, the weight of my body was a burden and I carried it with me everywhere I went."
It's difficult to climb out of a low point with seemingly nowhere to go. When Patrick hit rock bottom, he knew the only way out was to take action to change for the better.
"I hit a point that the pain of change was less than the pain of continuing. I could not see another day lost, another opportunity lost, another pound gained," he said. "The same pain I had when I was drinking and the same self-hatred I had is what I used to make a change."
Patrick decided to join O2 Fitness Elliott Road in Chapel Hill in the hopes of getting healthy and losing weight. At first, he exercised consistently but didn't set any specific goals.
"The first year my routine was all cardio, running, biking, and stair master. I would also use the weight machines without any idea of what I was doing," he said.
In 2016, Patrick decided it was time to get serious about his sobriety and his physical health. He started to set quantifiable goals to lose 10 pounds, then 15 pounds, run or 30 minutes, run for an hour, etc.
Soon, the transformation began.
"Quitting drinking was an easy 15-20 pounds down. The rest was showing up. Putting in work, day in and day out. When the day was over I went to the gym at 10 p.m. and stayed until midnight. If I had a few hours to kill, I went to the gym," Patrick said. "I hated my life and myself so much that I eventually took action to change. I took action to love myself and my life."
After months of coming into the gym, putting in his headphones and not talking to anyone, Patrick's mom gifted him personal training sessions for Christmas. Taking the leap into working out with a trainer and weightlifting took Patrick's confidence in the gym to a whole new level.
"I was really hesitant to do it because it meant talking to someone, trying something new, and being vulnerable," he said. "But it turned out to be a great experience because he taught me a lot of things that I did not know."
Throughout his training sessions, Patrick's personal trainer, Jordan, began to introduce him to other Elliott Road team members, opening up a new source of constant support and motivation.
"For a long time I just showed up and did my thing. But when I started talking to staff at O2 I found out that they were watching me the whole time. They saw me show up and they could see my progress and my transformation. They were proud of me," Patrick said. "I thought I was alone but I was wrong. The Elliott Road team was noticing and they were there for me. When I started talking to them they were incredibly kind and a wonderful source of knowledge and support."
In addition to his training sessions, Patrick took on running as an outlet. He clocked miles and miles on the treadmill while watching his favorite movies for motivation.
"I'm grateful the gym had WiFi because I would watch videos of superhero movies and movie battles and pretend that I was the hero. It would make me run harder and longer. I hate running but I love being a hero more," Patrick said.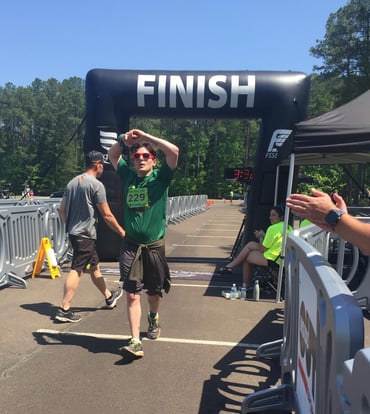 Today, Patrick is a new man. Not only is he a triathlete and 4-time half-marathoner, but he's more confident and more proud of himself and his accomplishments than ever.
"I feel invigorated when I run, I am happy when I do more squats, I feel proud of myself when I show up on days that I don't want to. I feel immense joy when catch I myself looking at myself in mirror doing a work out because I could never do that before," he said. "There is a heroic feeling I get when I am able to overcome shame, self hatred, and regret, when I keep pushing and accomplish something."
Patrick knows better than anyone how difficult it can be to bring yourself out of a tough time in life.
"It's easy to show up to the gym when you're jacked and in shape. It's hard to show up when your life is a wreck and you smell like booze or just ate a candy bar in the car or you're overweight and you hate yourself," he said. "But the people that show up in those situations are the most important people in the gym because they need it the most. I love those people."
It all starts with a small change. A consistent exercise routine, a supportive team at O2 Fitness Elliott Road, and a whole lot of motivation helped Patrick on his journey to becoming his healthiest and happiest self.
"Fitness has been a vital part of my recovery, a catalyst in my change and my continued success," Patrick said. "O2 Fitness makes me feel like a hero."
Itching for some inspiration? Check out our other member transformations!
---