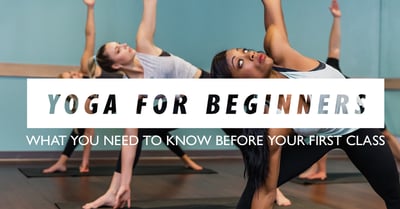 Adding yoga to your gym routine can give you a lot of health benefits, like gaining strength, improving your mobility and flexibility, and stress relief.
But trying something for the first time can make you feel overwhelmed or unsure because you just don't know what to expect. That's why the O2 team put together a list of our top 5 tips to help you get started.
Before you know it, you'll stop saying "I'm not going to go" and start saying "Namaste"... (;
Yoga Apparel: What Should I Wear To My First Yoga Class?
Consider wearing something stretchy and comfortable to your first yoga class. You want your outfit to accommodate your full range of motion.
The ideal yoga outfit varies depending on what feels most comfortable to you and the type of yoga class you attend. For example, if you're going to a Power Yoga or another high-intensity yoga class, you might consider wearing something well-equipped to handle sweat, as well as bringing an extra towel into the class with you.
You also do not need to wear your shoes and socks to your yoga classes, so consider wearing shoes that are easy to remove before class!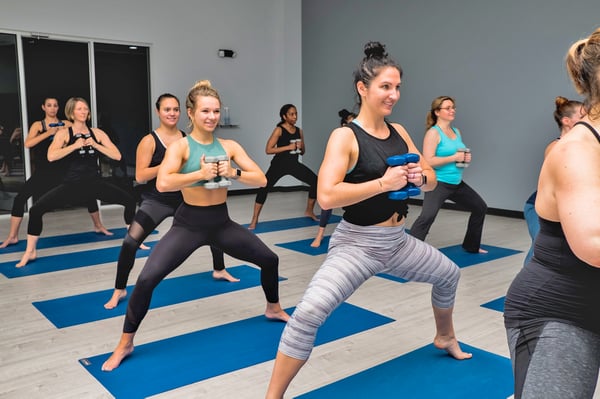 Yoga Accessories: Do I Need A Yoga Mat?
Yoga is typically done on a mat, but if this is your first time doing yoga, you likely don't own your own. So do you need to bring a mat to your first yoga class?
If you are committed to sticking with yoga, a good yoga mat might be worth buying. But if you want to give yoga a try before investing in a mat, you will likely find that your yoga gym has free in-house mats for you to borrow.
Contact the location before attending to ensure that they have everything you need to get started!
Yoga Difficulty: Is Yoga Difficult To Begin?
While some people might be more naturally flexible, practicing yoga can be beneficial for anyone.
Yoga may feel challenging at first, but the more you attend, the easier it will become! It's normal to need a few classes under your belt before you feel comfortable and start to feel the benefits that yoga offers, but over time you'll begin to see your flexibility, range of motion, strength, endurance, and mindfulness improve significantly.
Remember: It's never too early or too late to begin practicing yoga.
Yoga Variations: Which Yoga Class is Right For Me?
Yoga is ideal for people of all levels because the movements are extremely modifiable. Although the names may sound similar, there are multiple different types and styles of yoga classes that you can choose to try. The "perfect yoga class" for you will depend on your fitness goals, interests, and current fitness level. Some classes you could consider are: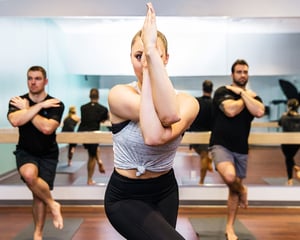 O2 Yoga: Looking to start with a traditional yoga practice? O2 Yoga is here for you. This is a perfect class to help you learn the ropes of yoga as you strengthen and elongate your muscles and cleanse your mind.
Les Mills BodyFlow: Les Mills BodyBalance classes are designed to combine yoga, tai chi, and pilates postures into a comprehensive, muscle-strengthening practice. Become a stronger, more flexible, and more balanced version of yourself in this class.
Silver Chair Yoga: A great option for seniors or anyone with limited mobility, Silver Chair Yoga is the same hour of mindfulness and stretching but from a firmly seated position. It's great for taking a moment in your day-to-day to develop your mind-body connection!
Vinyasa Flow Yoga: Vinyasa is a specific form of yoga where the movements are dependent on your breath. You'll flow from one move to the next to help increase your flexibility, and then the class will end with a short meditation session to help you leave feeling calm and centered.
m'bala: Created to exercise the mind and the body, m'bala classes provide a challenging combination of yoga postures with strength training, cardio, and mindfulness exercises.
Check out the class schedule for the location nearest you, and read the yoga class descriptions to decide which yoga class fits your preferences.
Yoga Costs: Where Can I Find A Yoga Free Trial?
Many yoga studios will want you to commit to the practice before you have the chance to decide whether or not yoga is right for you.
When trying your first yoga class, consider finding a fitness location that offers a multi-day free trial. This gives you the time you need to try one or more yoga classes before investing in a membership.
You already know O2 Fitness as your local gym and personal training hub, but you can also consider us as your new home yoga studio! Our wide range of yoga classes is sure to accommodate your workout interests and help you reach your fitness goals. Classes are always unlimited, so go ahead and find your first yoga class to try today!
---