Great days start with great breakfasts. Kick off your morning with this healthy breakfast quiche made with eggs and vegetables to power you through rest of the day.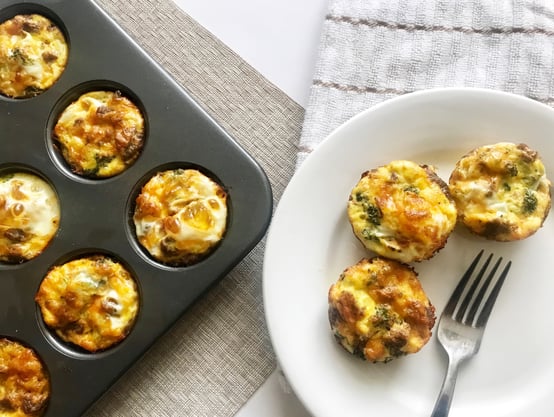 Editor's Note: This post is authored by O2 Fitness North Ridge Personal Trainer Lindsey Todd.
I love having the opportunity to help people live healthier lives. As a busy mom, I rely on quick, simple recipes to ensure that my daughter and I both get all the nutrients we need. This egg recipe is my go-to healthy breakfast for busy mornings. I make a big batch each week and keep them in the freezer to microwave in the mornings. This recipe calls for broccoli and cheddar, but you can get creative and swap out the type of veggies and/or the type of cheese. Bell peppers and pepper jack cheese taste great!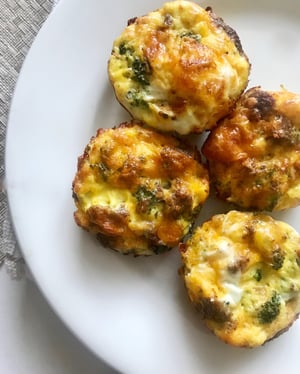 Ingredients
6 eggs
1/2 cup milk
1 cup chopped broccoli
3/4 cup shredded cheddar
1/2 lb lean turkey breakfast sausage
1/2 tsp ground mustard
1/4 tsp salt
A few shakes of Cajun seasoning
Directions
Preheat oven to 350 degrees F (175 degrees C).

Brown turkey sausage in a pan and set aside for later use.

Whisk together eggs, milk, and seasonings in a bowl or a large measuring cup.

Spray a muffin tin with nonstick spray.

Divide the sausage, broccoli, and shredded cheese amongst the cups of the muffin tin.

Pour egg mixture into muffin tin, on top of the sausage/broccoli/cheese. The liquid should be approximately 1 cm from the top of the cup.

Bake for about 30 minutes at 350 and then let them cool in the oven. Eat warm or freeze for later-->

De-pan and place on a cookie sheet to freeze. Transfer to a freezer Ziploc bag once they're solid. Reheat in the microwave for about a minute and a half for an easy, healthy breakfast on-the-go.
Each O2 Fitness personal trainer is a skilled professional with years of experience in exercise science, physiology, and nutrition. Meet with a trainer today to get started on your fitness and nutrition goals.
---