Les Mills classes are designed to help you gain strength and build endurance. The wide variety of practice and focus might have you wondering, "which Les Mills class is right for me?" The experts at O2 Fitness are here to help! Here is a quick guide on Les Mills classes, their nature, and whether or not they might be the classes you are looking for.

BodyPump
Les Mills BodyPump classes are high in intensity and effectivity, working out with barbells for a full hour of challenging fitness fun. The comprehensive class focus gives you a full-body workout. Les Mills BodyPump classes give you the results you are looking for based on your performance; you can use lighter weights for more toned results and heavier weights for more muscular results. Les Mills BodyPump classes are perfect for participants looking for a muscle-building, high-intensity workout.
BodyCombat
Les Mills BodyCombat combines self-defense with cardio moves. This is for participants who are seeking a strengthening cardio workout. By combining Karate, boxing, Taekwondo, Tai Chi, and Muay Thai techniques, BodyCombat works by selecting the right combination of moves to optimize a workout. Over time, you will achieve faster kicks, stronger punches,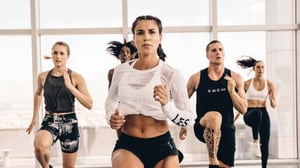 and a higher level of speed and confidence in your movements. You might find the added benefit of a peace of mind provided by your newfound strength and self-defense skills.
BodyFlow
Les Mills BodyFlow classes offer a much more measured pace. Perfect for participants seeking a calming and effective workout, BodyFlow is designed to strengthen both your mind and your muscles with an innovative yoga practice. Combining yoga, tai chi, and Pilates postures and exercises, this class also provides a challenging workout. While the exercises are conditioning your body, the instructor will condition your mind and soul with breathing exercises and calming practices.
CXWorx
Les Mills CXWorx is a core workout to end all core workouts. This is designed for participants who know the value of a strong and healthy core. While CXWorx workouts can be difficult, they create a sound effect by engaging a number of in-house equipment like resistance bands, weights, and more. By targeting and strengthening these central muscles, Les Mills CXWorx can help you improve your life inside and outside of the gym.
Les Mills RPM
Les Mills RPM is the motivating, exciting, and effective Les Mills take on cycling. Les Mills RPM challenges you to increase your resistance, pedal as fast as you can, and get your heart pumping as your bike simulates various nature terrains. This is while you workout to upbeat music and condition your legs, heart, and core. Les Mills RPM is designed for participants at all levels who are seeking cardio and lower body workout and are not afraid to push themselves.
BodyAttack
Les Mills BodyAttack is an intense workout created to target every area of your body. Les Mills BodyAttack uses simple moves in challenging combinations, making it accessible and effective for participants at every level. This class is designed for participants seeking a full body transformation. Work at your own level as you refine and strengthen your muscles from head to toe with Les Mills BodyAttack.
Where to Find Les Mills Classes | Les Mills Near Me
If you are interested in giving Les Mills classes a try, O2 Fitness has what you are looking for. Feel free to test them all out until you find the right Les Mills class for you. Get a free trial today to get started on your Les Mills fitness journey.
---