Les Mills classes are scientifically designed to help you gain strength, flexibility, endurance, and confidence. The wide variety of classes most likely has you wondering, "Which Les Mills class is right for me?" We're here to help!
This blog is your quick, easy guide on all Les Mills classes, what to expect, and the results. Les Mills classes work to help you decide what class is best for your fitness goals!

BodyPump
Les Mills BodyPump classes are high in intensity and effectiveness!
This workout uses barbells and weight plates for a full hour of challenging fitness fun, resulting in a complete full-body workout. Les Mills BodyPump classes have the flexibility to provide you with the results you are looking for based on choices you make during class; you can use lighter weights for improving muscle tone and heavier weights for gaining strength.
Les Mills BodyPump is the perfect class for anyone looking for a muscle-building, high-intensity workout! Learn more about what to expect in your first BodyPump class here.
BodyCombat
Les Mills BodyCombat combines self-defense with cardio moves. This class is perfect for anyone seeking a strengthening, empowering cardio workout!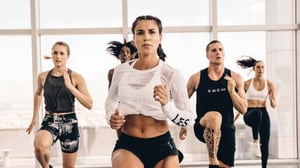 Combining Karate, boxing, Taekwondo, Tai Chi, and Muay Thai techniques, BodyCombat selects the right combination of moves to create an optimal body-weight, full-body workout. Over time, you will notice you're kicking faster, punching stronger, and more confident as you move.
You might even find the added benefit of the peace of mind provided by your newfound strength and self-defense skills!
BodyBalance
Looking for a moment of serenity during your day? Les Mills BodyBalnce is a great way to slow down for a calming and effective workout. BodyBalance is designed to strengthen your mind and muscles with an innovative yoga practice.
This class combines a variety of yoga, tai chi, and Pilates postures and exercises to make a challenging workout. While the exercises are conditioning your body, the instructor will condition your mind and soul with breathing exercises and calming, meditative practices.
Les Mills RPM
RPM is Les Mills' motivating, exciting, and effective take on cycling. Your instructor will challenge you to increase your resistance, pedal as fast as you can, and get your heart pumping! This is while you work out to upbeat music and condition your legs, heart, and core. Les Mills RPM is perfect for anyone at any fitness level seeking a cardio or a lower-body workout but isn't afraid to push themselves!
Where to Find Les Mills Classes | Les Mills Near Me
If you want to try Les Mills classes, O2 Fitness has what you are looking for! Go ahead and try them all until you find the Les Mills classes that are right for you. Claim your free 21-day trial pass today to start your Les Mills fitness journey.
---