If you are in the beginning stages of a new fitness journey, you might be wondering, "Which workouts are designed for beginners?" The experts at O2 Fitness are here to help!
While all of our fitness classes are easily accessible and modifiable to participants at every level, some classes offer a more readily available platform for beginners. Here is a look into some of the classes that provide an easily accessible place for beginners to start.
30-Minute Cycling Classes
Cycling classes are highly effective and low-impact workouts, making them perfect for beginners. Shorter cycling classes are a great way to get started and see if cycling is right for you.
Instructors will offer participants guidance, but the resistance and speed settings on the machines are controlled individually, allowing beginners to work at their own pace. Cycling also offers several health benefits that make them ideal for beginners to take advantage of, such as increased endurance and heart health.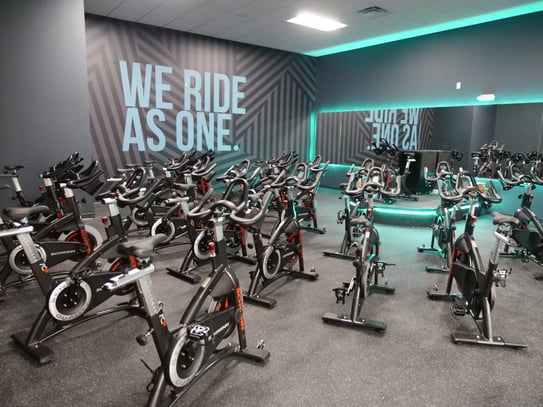 Yoga for Beginners
Yoga is meant to both strengthen and mobilize your body, making it a great introductory workout for beginners.
With a measured pace and accessible modifications, yoga classes are diverse enough for participants of every level. To benefit your joints and muscles, yoga is also a great way to learn new stretches, breathing, mindfulness, and other foundational skills that will benefit you along your wellness journey. There is a wide variety of yoga classes to select from. Consider reading through these yoga descriptions to decide which is right for your class preference.
Dance Fitness
If you love dancing, you will be excited to find that Zumba Fitness has created a calculated workout of electrifying dance combinations. Zumba classes are upbeat and exciting, making them a great workout for both beginners and seasoned fitness experts. Brilliantly combining dancing with fitness, Zumba offers a little something for every participant. These classes are designed to raise your heart rate, mobilize your joints, burn fat, and get your body moving!
For beginners seeking a workout that doesn't quite feel like a workout, Zumba Fitness is an excellent place to start!
O2 Core Classes
A strong core is an important foundation to build on when working towards your fitness goals. These 30-minute O2 Core classes are short enough for beginners to endure and provide exercises that are simple to modify if you are having a hard time executing them. For more seasoned fitness participants, short core classes may serve as a warm-up or a portion of a larger workout; however, beginners can incorporate these 30-minute core classes as a more central portion of their fitness routine. Core classes are a solid place for beginners to kickstart fitness and explore new and beneficial exercises.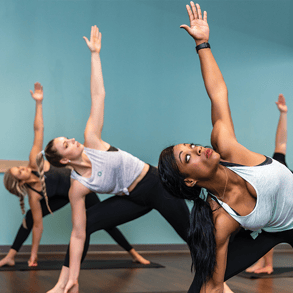 Pilates Classes
While Pilates classes can offer challenges to participants at every level, these classes combine core-engaging and muscle-toning positions to improve your flexibility and strength. As per usual, modifications are easily available, and the low-impact nature of Pilates makes it a powerful workout for beginners to ease into. Read through the Pilates classes offered at your local gym to see which might be most accommodating to your fitness level.
Total-Body Conditioning
If your goals involve toning, mobilizing, and strengthening your muscles, a total body conditioning class is a quick and effective way to attack your fitness goals. These classes utilize weights, and you can adjust your weight selection to accommodate your experience level.
This simple modification and other alternatives suggested during class make these total body conditioning classes very beginner friendly!
Right Classes for Me | Fitness Classes Near Me
If you are wondering where you can find modifiable classes perfect for beginners, check out your local O2 Fitness gym. Still feeling unsure about which classes are best for your experience level? Consult our experts for insight into the right classes for you.
O2 Fitness also offers two free personal training sessions with each new membership, which can help you identify your strengths and needed areas of improvement. You can use this insight to inform your group fitness class decisions. Our experts will work with you and help you find the right classes for your fitness level. Call today or visit your local O2 Fitness location to get started.
---