Whether you're just getting back into your fitness routine or you're a gym regular, having the right equipment can make all the difference!
There's a lot of products out there, but the O2 team is here to show you some of the products that we absolutely love to use in our gym routine. Keep reading to see some of our teams' favorite fitness products that can help motivate you to hit the gym and take your fitness routine to the next level!
HydroJugs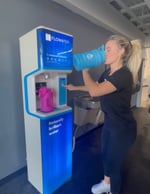 Hydration is key to a successful workout, and HydroJugs are a convenient way to stay hydrated with style! These aren't just your standard water bottle. These jugs are durable and stylish, and best of all, they come in a range of colors and sizes! Plus, they have a convenient carrying handle making it easy to bring to the gym or work.
No Bull Brand Shoes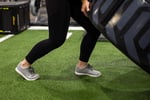 Did you know that wearing sneakers or running shoes while weightlifting can negatively affect your performance?
Having a good pair of gym shoes is essential. No Bull brand shoes are designed with the athlete in mind, with features like slip-resistant soles, shock absorption, and breathable materials; these shoes are built to help you push harder and go farther!
Whether you're running, lifting, or doing CrossFit, No Bulls are a great footwear choice that the O2 team loves!
Feetures Socks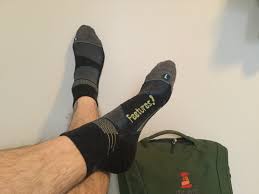 These socks keep your feet happy! A good pair of socks can make all difference in your workouts when it comes to comfort and performance.
Feetures are designed with athletes in mind by offering targeted support, breathability, and a comfortable fit for all feet. They also help prevent blisters and work to keep your feet feeling great no matter how intense your workout might be!
So whether you're running, lifting, or doing yoga, you should always keep a pair of these bad boys in your gym bag.
Alani Energy Drinks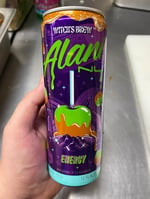 Keeping your body fueled up and ready to work is essential for a successful workout. And our team knows that Alani Energy drinks straight from the club fridge are the perfect way to do it!
These delicious drinks are packed with essential nutrients, vitamins, and energy-boosting ingredients, and come in a bunch of delicious flavors. Whether you want to get pumped-up to hit the gym or just need a quick pick-me-up, Alani Energy Drinks are a great way to fuel up and get yourself ready to move!
WHOOP Wearable Fitness Tracker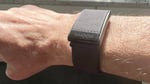 This isn't your average fitness tracker. Monitoring and tracking your workouts is essential for reaching your fitness goals.
This small, wearable device provides a detailed analysis of your sleep, recovery, and activity strain to help you stay in the loop of how your body is performing. WHOOP also offers personalized insights based on this data and gives recommendations that help you optimize your performance in and outside of the gym.
If you're a gym rat or just starting out, a WHOOP Fitness Tracker is a great tool for anyone wanting to improve their overall health and wellness!
These products are just a few of our team's favorites to help them fuel their workouts and for staying motivated and consistent while working towards reaching those fitness goals. Whether you're new to O2 or you're a club regular, these products are sure to make a difference in your gym routine.
So, go ahead and give them a try, and let us know what you think!
---