What comes to mind when you think about being active and hitting the gym? The toned abs you have been trying to sculpt or going the extra mile on the spin bike for your cardio? Fitness is about so much more than the physical; it's about mental agility as well. A great overall fitness routine encompasses and connects mind and body. Read on to discover how to set daily intentions and work healthy habits into your fitness routine to balance your overall wellness.
Nurture Your Skin
Making nurturing your skin part of your fitness routine is a great habit to embrace. It helps you to remember to take care of your body holistically. For instance, if you are playing sports outside, or going for a run, remember to apply sunscreen for outdoor exercise. This will help you to be able to work out comfortably and confidently. Taking care of your skin as an active adult is not only good for your physical health but can have a calming effect. After working out, unwind by taking a nice shower or soaking in your tub. The water will feel good on your skin and help your muscles relax. After getting out of the shower, take care of your skin by moisturizing it, and apply an acne cream to clear up any pimples and prevent breakouts.
Meditate
Meditation is a great way to set an intention in your day. Carving out time to meditate pre, and post-workout, can do a lot of good for your body. Finding time to meditate slows you down, allows you to pause, and prioritizes your health in what can seem like a jam-packed day. Before working out, try deep breathing, think positively, and envision the results you would like to see. Positive reinforcement and keeping the good vibes going can lift your mood and get you motivated to take on your workout. The same goes for post-workout too. Take a moment to do some cool-down stretching, listen to some soothing music, and slow down your body.
Try a Mind-Body Class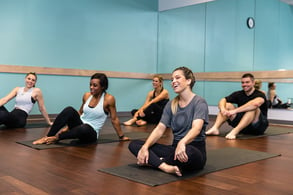 An excellent way to bridge mental and physical health is by taking a mind-body class. Following guided instruction like yoga, barre, or pilates can help you stretch and flex and relax your body and mind. If you like to dance, barre may be the one for you since it is rooted in ballet. Or, if you're interested in core strength and balance, then give pilates a try. Whatever you choose, focusing on your movements and breathing can be a great cool down after high-intensity activity. It can also help to alleviate stress and anxiety by allowing you to focus your attention.
Keep a Fitness Journal
Maintaining a fitness journal is a great practice to hold yourself accountable and unwind. Use a journal to set your fitness schedule up for the week. Write down what circuits you would like to focus on, such as a particular muscle group you want to target and weight training. Take note of your goals and aspirations as well. It's important to keep track of the progress and milestones you are hitting. You will want to write down all your accomplishments to congratulate yourself along the way. Not only that, but don't hesitate to write down some motivational quotes to inspire you, or just write down your feelings.
Your fitness routine does not stop at the gym. Being intentional and embracing healthy habits day to day is what your body needs for the best results. Whether you're being mindful, eating well, or tackling your next set, don't overlook intention setting and your healthy habits.
---