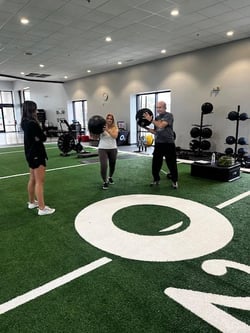 Starting your fitness journey can be intimidating, especially when you're going at it alone.
But what if you had a partner to motivate and support you every step of the way?
Meet Carol and James, a husband and wife duo who decided to embark on a personal training journey together! They started their fitness journey together and are well on their way to being healthier and happier than ever.
Keep reading as they share their story, the challenges they faced, and what they have learned along the way to get inspired to start your own journey and discover how a little determination and teamwork can go a long way!
What Inspired You to Start Your Fitness Journey?
Carol:
"In February 2022, a few months after my 65th birthday, I took an honest look in the mirror and realized I was 30 pounds overweight and felt tired all the time.
The COVID seclusion and my desk job were taking their toll on my body. For the sake of my health and well-being, I knew I had to have something else in my daily life besides sitting in front of the computer.
I knew that a healthy diet AND exercising together are what I needed to achieve that goal."
James:
"In the early spring of last year, my wife talked me into joining O2 Fitness with her.
She was worried about my health and activity (or lack of it.) I'm 76 years old, and I was told last year that I had a heart issue, and it was critical to the point that a pacemaker was possible.
So I knew we both needed to change and start getting active."
How has your training experience been so far?
Carol:
"I took time researching different gyms, and O2 Fitness seemed a perfect fit. When I went to the gym, their team took me through a physical and health assessment where we talked about what my goals were and how much time I could realistically devote to the gym.
I was matched with Lindsay Hooks, one of O2 Fitness' Certified Personal Trainers. I have been so impressed since I have been working with her!
She is so friendly, upbeat, knowledgeable, and supportive. She's developed a plan, and as I work out, she explains what muscle groups I'm working on and why it's important to my goals and overall health.
We quickly became a team, and later I convinced my husband to join the gym and become part of our team too!"
James:
"After I joined O2, I met with an O2 Personal Trainer, Lindsay Hooks. She interviewed me, learned about my physical abilities and liabilities, and created a workout regime to fit my needs. Now, Lindsay has been guiding me through my fitness journey for almost a year!
Lindsay is totally professional, patient, friendly, and supportive. She's worked with me despite conflicts in my schedule and gives suggestions to help me stay on course with our training. (She even works her schedule to make sure my wife and I can train together!)"
How has the support of your trainer helped your fitness journey?
Carol:
"After several months, I have lost 25 pounds and toned up my muscles at the same time. Now at 66, I have my energy back and feel great!
I'm no longer tired all the time, my blood pressure is becoming closer to normal, and my doctor even said that at this rate, he may be able to start decreasing the dosage of my medication.
Although I'm pleased with improving my appearance and having my clothes fit so nicely again, I'm thankful for Lindsay and the team at O2 Fitness! Everyone there is a great group of people, and I highly recommend giving O2 Fitness a try."
James:
"Because of Lindsay, I am much more active and feel like a new man! Best of all, after my last cardiology exam, my heart issue has improved from critical to putting me in the recovering category, and a pacemaker is no longer on the table.
Even my cardiologist was impressed with how the workouts have strengthened my heart muscles!"
Are you inspired by Carol and James' personal training journey and ready to start yours?
Take the first step today and click here to schedule your first complimentary session with any of our O2 Fitness Certified Personal Trainers.
With the right support and guidance, you too can achieve your health and wellness goals and start living a happier, healthier life!
---