When you commit to a new gym membership, you want to ensure that you are signing up for a gym that you will actually attend regularly. This makes it important that you feel comfortable with the facility, connect with the instructors, benefit from the classes, enjoy the equipment, and more. You might find that the best way to gauge your comfort level with a gym is to complete a free membership trial. How can you make the most of a trial membership? Here are some of the top considerations that are important to regular gym-goers:

Cleanliness
Gym cleanliness is important for both your health and your peace of mind. When you are trialing a new gym, be on the lookout for signs of high sanitation. Try to make time for your normal lockerroom routine to ensure that the cleanliness of the facilities is up to your standards. You want access to equipment, bathrooms, and a workout floor that makes you feel safe, comfortable, and clean. This is an important part of any free trial membership routine to consider before committing long term.
Available Equipment
Everyone has their go-to fitness machine, and you want to make sure your prospective gym has yours. Check the facility for your favorite types of equipment and make sure they have a wide enough selection that you will never be kept waiting for too long. After securing your usual machines, don't be afraid to explore your options and test new equipment as well. You likely want a gym membership that will give you some room to grow. This requires the right sets of tools and equipment for you to use.
Class Offerings
Are there any new group fitness classes you have been hoping to try? Make sure that your new gym membership offers a diverse range of fitness classes that interest you. This will help keep you engaged and working towards your fitness goals. Some popular fitness options to look out for include: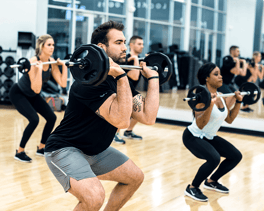 If your prospective gym membership has new classes that you would like to try, consider attending a class or two during your free trial membership. This can help you gauge the fitness routine you might uptake during your time with the gym. Gaining familiarity with the class schedule and finding classes that challenge and excite you can help you create motivation during your trial membership.
Kids Club
Parenting does not have to put your fitness needs on hold. For parents completing a new gym trial, consider checking out any in-house childcare program that the gym might offer. These programs are the perfect outlet for parents hoping to get back into their regular fitness routines. Ask other gym participants what they think of the program and speak with the childcare attendants. This can help you determine whether or not a Kids Club offering might be right for you.
Personal Training
Are you interested in trying personal training? Personal training is a proven approach to fitness that provides an individualized level of attention to meet your unique fitness needs. Take the time during your free gym trial to meet the gym's personal trainers and decide whether or not you think you are compatible with their training styles. You might also consider checking out the personal training costs and whether or not the membership includes any free personal training sessions.
Free Trial Gym Membership | New Gym Near Me
If you are seeking a gym with a generous trial membership and expansive gym offerings, you need the O2 Fitness free membership trial. This three-day membership allows you to test the ropes before signing up. For a cost and commitment-free membership trial, visit your local O2 Fitness gym today.
---