Maintaining an active lifestyle as a parent can be difficult, which is why O2 Fitness created a program designed to help. The O2 Fitness Kids Club is tailored to accommodate active families, allowing parents to exercise while their children enjoy time with our professionals. Kids Club goes far beyond the standard fitness amenities to create an exceptional wellness experience for parents and children alike. Here is what you can expect from the O2 Fitness Kids Club.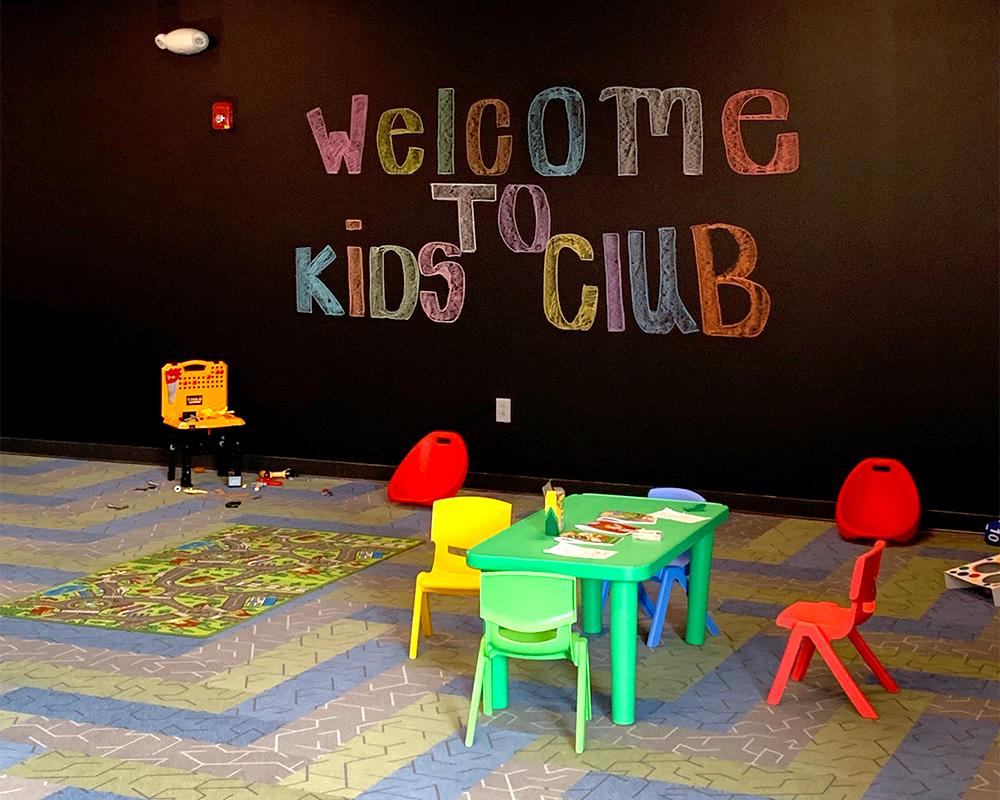 Children's Gym Activities
While children's O2 Fitness memberships are not yet available, you can promote a healthy lifestyle for your child by enrolling them in our Kids Club. Fitness and fun are priorities in the O2 Fitness Kids Club, exposing your children to the benefits of an active lifestyle at an early age. Kids Club is designed to seamlessly promote healthy habits among fun activities while you workout in peace.
Kids Club participates in a wide range of engaging activities for children, including themed dress-up days, mascot visits, face painting, games, music days, crafts, and more! Each day in Kids Club is crafted to include all children in an enjoyable and welcoming experience.
Kids Club Policies
The O2 Fitness network has policies in place to protect your children and others within our gym family. Most of these policies are intuitive and similar to those that you will find within your school system and other childcare networks. Click here to view the complete list of Kids Club policies, and do not hesitate to contact our experts with any further questions you may have.
Drop N' Shop
The O2 Fitness Kids Club is expanding to help you balance your life inside and outside of the gym, effectively promoting an overall healthy lifestyle. The O2 Fitness Kids Club Drop N' Shop offering allows you to let your children hang out with our experts for an hour or two while you get your shopping done. This gives you the peace you need to manage your day while your children get the excitement and social time they need for healthy development. Check your local O2 Fitness location to review any Drop N' Shop offerings that they may have in place.
Parents' Night Out
O2 Fitness knows that a large part of fostering a healthy lifestyle involves making time for yourself outside of your workout. This is why we developed Parents' Night Out, which gives your children a fun place to stay while you enjoy time out of the house. Check your local O2 Fitness location for Parents' Night participation and scheduling.
Kids Club Details
We know how hard it can be to leave your child, even only for an hour. For your first visit to the Kids Club, you and your child should arrive 20 minutes before the beginning of your intended fitness class to meet our specialists and to give your child the time they may need to feel comfortable. This also gives you the time you need to complete the required information sheet. You can also fill this out ahead of time and bring it with you to save time! Here are other details about the O2 Fitness Kids Club:
Who is Allowed in Kids Club? The O2 Fitness Kids Club accommodates children between 6 weeks and 12 years of age.
What are the Kids Club Time Limits? For children between the ages of 6 weeks and 11 months, the Kids Club time limit is 1 hour per day. For children between the ages of 1-12 years, the Kids Club time limit is 2 hours per day.
How Much Does Kids Club Cost? You can add Kids Club to your membership for just $10 extra each month. Speak with your local O2 Fitness experts for full details on this membership plan.
Can I Try the O2 Fitness Kids Club? Yes! Get your free trial Kids Club pass by following the on-screen guidance here.
Our professionals want to ensure that your Kids Club experience is exceptional. If you have any other questions or concerns, please contact our O2 Fitness experts today. We look forward to greeting you and your child at your local O2 Fitness Kids Club!
O2 Fitness | Kids Gym Near Me
You can find the O2 Fitness Kids Club at gym locations across both North Carolina and South Carolina, including Kids Clubs in Raleigh, Charleston, Wilmington, Chapel Hill, Mount Pleasant, and beyond. If you are ready to give the O2 Fitness Kids Club a try, call your local gym today to learn more. You can bring your children by to meet our experts and get more information in person at your preferred location. Contact your local O2 Fitness location today to get started!
---