Crafting is a great way to boost your mood, improve self-confidence, and reduce overall stress levels (no matter what age you are!) It's also a great way to improve your mental agility, improve gross and fine motor movements, and decrease cognitive decline.
The best part is that you and your little ones can reap all these benefits with any craft your heart desires! From knitting to painting to card making, there are tons of ways that you can get crafty at home.
If you're not sure what to make, look no further! We found 3 easy October crafts perfect for kids that will make great homemade holiday decorations. (Best of all, they use items you can find around the house!)
Paper Plate Spiders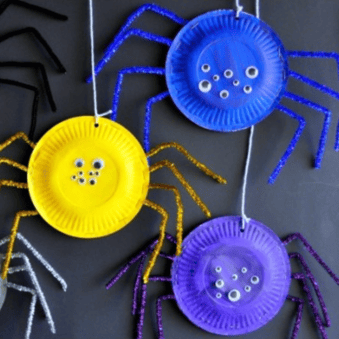 This spider craft is easy to make and uses everyday items you probably already have at home! Here's what you need to get started:
Paper Plates

Paint

Pipe Cleaners (4 per spider)

Googly Eyes

Glue or Tape

Hole Punch

String
Begin by painting the paper plates the color you want your spiders to be. Bend all 4 pipe cleaners in half and attach 2 bent pipe cleaners to each side on the back of the plate with tape or glue so there are 4 "legs" sticking out at each side. Add googly eyes to make your spider come to life (the more the spookier!)
Optional: Use a hole punch and string so you can hang them around the house.
Q Tip Skeletons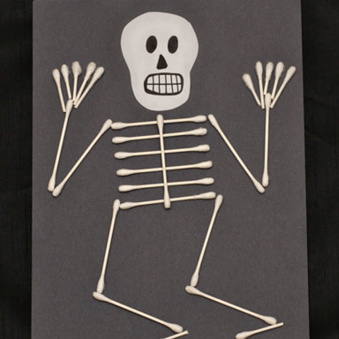 These Q Tip skeletons are perfect for preschoolers and older kids! All you will need to make them is:
Construction Paper (black or colorful)
Q Tips
School Glue
White Construction Paper or Pre-Printed Skeleton Head
Marker
Pro Tips:
You can lay the framework of the skeleton for younger children to make sure there's room for everything.
Apply the glue directly to the Q Tip before sticking it to the paper to make the process less messy!
Have fun and play around with the orientation of the bones or add more than one skeleton!
Masking Tape Mummy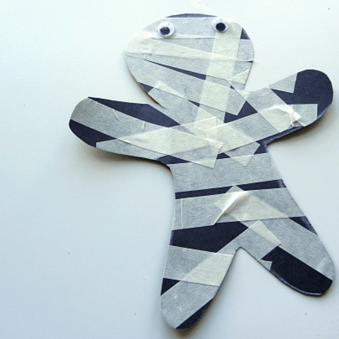 This craft is simple and so fun for the kids to make! It's perfect when you need a rainy day activity or to entertain a group of little ones. Here's what you need:
Construction Paper
Masking Tape
Safety Scissors
Glue
Googly Eyes
Start by tracing an outline of a mummy with a pencil onto the construction paper. Tear or cut off strips of masking tape and lay them in a random, criss-cross pattern all over the mummy's body. Then carefully cut out the mummy's body and glue down the googly eyes where you want the mummy's eyes to be!
Keeping your kids entertained can be tough (especially during the holiday season when the parents need a break too!) That's why we offer Kids Club at the clubs. You can enjoy a Studio Fitness class, lift weights, or team up with your Personal Trainer, and our childcare team keeps our youngest members entertained with fun daily activities like these!
---