You don't need to be perfect, but you do need to start. Whether it's starting to exercise, starting to diet, or just starting to prioritize a healthier lifestyle, once you start you will only regret not starting sooner. Chris knew it was time for him to find his way back to fitness, and couldn't be happier that he found a place and people that make him feel unstoppable.
Keep reading to hear how finding fitness has helped our member Chris to transform himself physically and mentally!
What was your 'a-ha' moment that made you decide to make a change?
Growing up, I was a high school athlete (a very good one if I say so myself), so exercise has always been something I'm used to. But as I got older, when I went to get up or run, it was just not the same. I began feeling so held back, and feeling that way was not something I loved. One day I went into the pool with some family, and my brother, who is naturally a big guy, started to sort-of poke fun of me. Although he didn't do it to be hurtful, essentially, he called me out of shape. Once he said that it hit me then and there, and I knew I needed to get back into shape.
How did you start to make the change? What did you find work best for you?
I started my health journey by first changing what I was eating by cutting out red meat. I started incorporating a lot more greens and less rice into my meals. Now - I did and do still have some sweets from time to time. But instead of having 8 cookies, I will have 2. Instead of having 4 slices of pizza, I will have 2. The easiest thing to cut out for me was soda and sugar cards. But I still let myself enjoy a glass everyone in a while instead of keeping it off-limits to myself. I found that with diet, it worked best for me to not restrict myself from ever having unhealthy foods but rather monitor the amount I had.
What has been the most significant or surprising change you've felt?
Since finding fitness, my energy level has definitely increased. Before, I was getting out of work and just didn't have the energy or the want to do anything after my workday ended. Now, that's not the case. I'm physically and mentally in a place that I haven't been in a long time. I have also begun seeing the physical changes exercise has started to take form in my body - I see the veins in my arm muscles which is new but kinda cool!
What was O2's role in your fitness journey?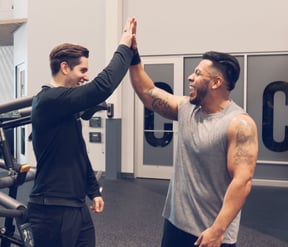 I moved from New Jersey to North Carolina, and it was right as the pandemic was unfolding and the lockdown happened, so I was lost. I was not sure which gym to go to when things opened up. I had gone to a few places, but when I tried O2 - something just felt right. From the moment I walked in, the staff made it a point to remember my name, greet me like a familiar friend, and get to know me. I can sit down and talk to Patrick or any of the other staff members to this day. It's amazing! The equipment at the club is just what I need, and through the help of Patrick and the other staff, I have been able to get my bench press to 405 pounds on the flat and 315 pounds on the incline. They weren't trying to push me into buying a package I didn't need, but they helped me just by speaking to me at the gym, giving me tips from their experience and knowledge with training, and just being kind. I don't believe that I would have made this transformation and continue to work on myself without the O2 Fitness team at Holly Springs making me feel so welcomed.
What have you learned through the process?
Through the process of getting in shape and prioritizing my health, I was diagnosed with cancer and Lupus. Being in the gym and losing weight has helped me to understand that no matter what noise is going on in my head, is going on in the world, or is going on in my life, the gym is the place where I can always get a smile, and a see a friendly face then put in my headphones on and she out the noise. For that hour, nothing matters but me and what I am doing at that moment, and in that hour, I am unstoppable. I feel like the king, and those weights do what I say because I have the power. The power to lift them and the power to overcome adversity to lose weight, to beat cancer, or just to get up and do cardio that I don't want to do (haha.)
What would you tell someone who wants to make a change? How would you inspire someone to take the first step and go for it?
The most important thing is accountability. We all want to have a specific body shape or size, which can be great motivation for us to get started. Still, we also need to be realistic - that ideal body type, shape, or size will take a ton of time and effort and might not even be achievable based on how your body uniquely works. So try to set small goals. Start with walking 10 minutes, then run for 10 minutes. Aim to lose 3 pounds, then 5, then 10. Set yourself up for success, not failure. You can do that by setting realistic expectations and holding yourself accountable to work towards them. Feeling good in your body is worth more than that extra slice of cake will taste or that sitting on the couch all weekend will feel. I would say that if I can do it, so can you! I'm just a regular guy who's had to work for everything he has now, so if I can muster up the energy and courage to try, then you should too because unused effort to better ourselves is the greatest regret we have.
If you're ready to get started, O2 Fitness is here to help. Take the first step towards a healthier and happier you when you claim a 21-day free trial. Need a friend that will help keep you accountable? Book a free session with a trainer to set up a plan that will work best for you!
---