Zumba classes have earned an international reputation for uniting fitness, fun, and accessibility into a single workout style. Zumba locations can be found in 180 different countries with over 15 million participants worldwide. The global hype surrounding this workout is perpetuated by the continuous mental and physical results they provide participants. Here are five benefits of Zumba Fitness workouts that will have you feeling excited to get involved and begin your Zumba wellness journey!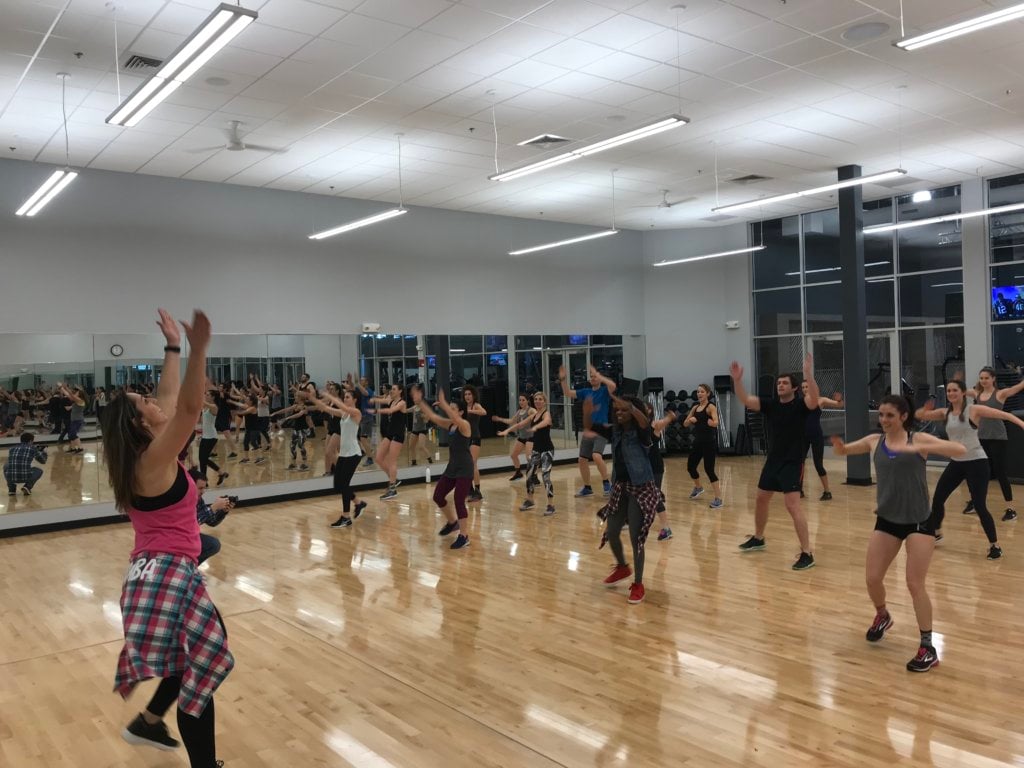 1. Effective Workout Classes
The mixed interval style of Zumba incorporates both high-intensity and low-intensity moves, which creates a timelessly effective workout. A 2012 study on the effectiveness of Zumba yielded conclusively-positive results, determining that the workout meets high fitness industry standards in terms of heart rate fluctuation, oxygen expenditure, and caloric burn. If your fitness goal is to lose weight, tone up, or just get your body moving, Zumba has specified classes tailored to meet these intentions. There are two primary Zumba levels for meeting these goals: Zumba and Zumba Gold.
Zumba is a workout designed to sculpt and tone your body. At your own pace, you will notice the moves becoming easier as your body grows stronger and builds up endurance. You may also begin to recognize certain movements and how they can be adapted to accommodate various assemblages of choreography. There are always more challenging variations of movement for you to try as you begin to meet and exceed your goals.
Zumba Gold is a workout designed to get your body moving as you introduce or reintroduce your joints and muscles to certain movements. This provides a space for you to build strength, endurance, flexibility, and balance as you test your limits and grow stronger.
These classes are led by trained professionals who know how to pace the movement for both accessibility and effectiveness, meaning that you will never feel left behind or out of step in your Zumba class.
2. High Energy, Enjoyable Workouts
Zumba is known for taking the "work" out of "workout" with upbeat dancing inspired by the rhythms of Latin moves and other genres of dancing. Often referred to as a "fitness party," Zumba is all of the fun of dance classes but calculated and measured out in a way that promotes the highest caloric burn for your body. The emphasis during Zumba classes is placed on keeping your energy high and having a good time. Trained Zumba professionals know how to keep things moving in a way that leaves no time to feel uncomfortable or out of place. You are sure to find yourself in the dance movements and forget that you are working out at all.
3. Work Out Without Judgement
Zumba workouts are grounded in creating a judgment-free zone where participants can feel comfortable dancing, exercising, and having fun. There is no "wrong" way to participate in Zumba classes; participants are encouraged and empowered to work at their own pace. With the dissolution of concrete expectations, there is no foundation to support judgment or exclusivity within the walls of a Zumba workout room.
4. Inclusive Workout Classes
Designed for every body type, there is a Zumba class for everyone. Zumba Gold workouts are designed for older class members or those who would like to get started on a more modified scale. These classes take a slower pace and offer a more measured beat for participants to dance to. These workouts can also be completed in a chair for those with an injury or in a wheelchair.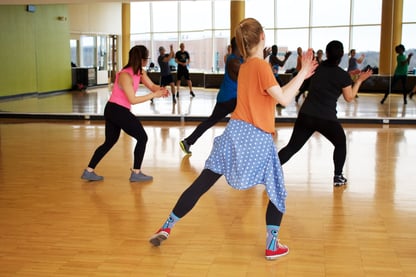 The traditional Zumba workouts are equally inclusive, though often enjoyed by those with a higher level of mobility. With group choreography resembling that of Latin dances like Salsa, Merengue, and Cha Cha, these Zumba classes offer a more challenging selection of moves at a quicker pace; however, Zumba instructors will work with you no matter what you feel your limitations may be. You can easily modify the choreography to overcome any personal obstacles that may stand in your way of an excellent workout. If you need a hand with this modification, your Zumba instructor is there to help you ensure you have all of the assistance you may need.
5. A Welcoming Fitness Community
Zumba does more than simply provide you with an excellent workout; here you will meet like-minded, supportive individuals who are actively working towards the same fitness goals that you are. A study on the Zumba community confirmed that the classes have high psychosocial and psychological benefits including a higher post-Zumba sense of positive well-being and a lower post-Zumba sense of psychological distress. The excitement and energy contained within Zumba fitness classes bring people together in good spirits.
Where to Find Zumba Fitness | Zumba Classes Near Me
If you are looking to get started on your Zumba Fitness journey, O2 Fitness is here to help. With locations throughout both North Carolina and South Carolina, you can find O2 Zumba classes in clubs across North Carolina and South Carolina! Try your first class for free!
---