Group fitness classes are a proven way to enhance your wellness community, enjoy effective workouts, and achieve your personal goals. Every group fitness class is designed differently, and they are each targeted to produce a range of fitness results. So which group fitness class is best for meeting your health and fitness plans?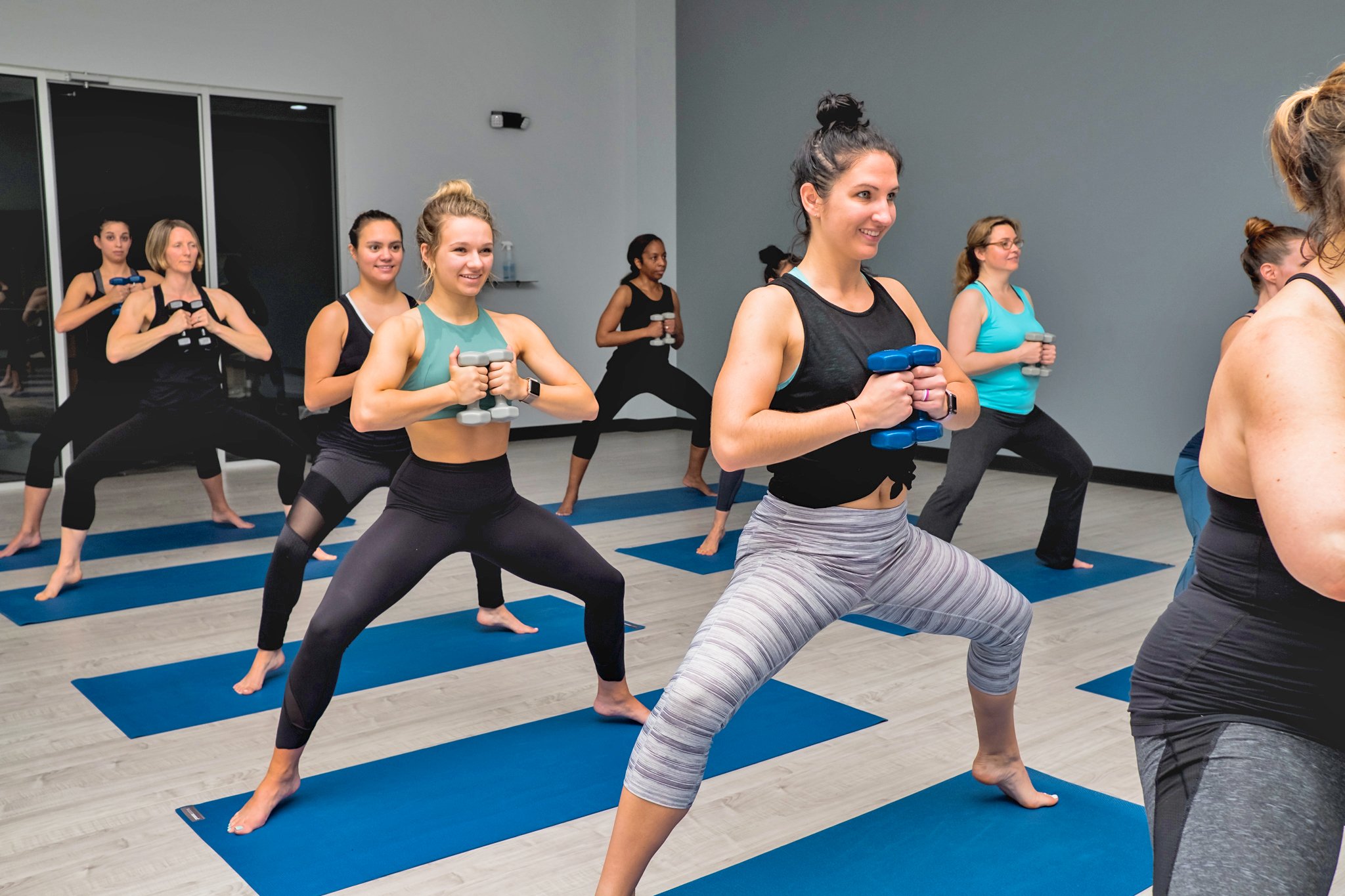 Strength Training
If you are building stronger, more prominent muscles, strength training group fitness classes can help you along your way. Whether your fitness goal involves toning down or bulking up, these strength training classes are designed to help you achieve your desired results:
Les Mills BodyPump: Les Mills BodyPump is a barbell workout perfect for strengthening your muscles. For toning muscles, participants can do extra reps with a smaller barbell, and for building up muscles, participants can challenge themselves with larger barbells. Both Les Mills BodyPump methods will result in stronger, more defined muscles, along with other health and fitness benefits.
HIIT: High-Intensity Interval Training, or HIIT, is a challenging workout that involves intense circuits separated by recovery periods, a method known for providing effective strength training and reliable results.
O2 Core: Specifically designed to build strength in your core, this class provides the attention needed to build up your central muscle groups, supporting a strong foundation for you to succeed in your strength training endeavors.
You can build strength and tone your muscles in a wide variety of strength training classes. Check out your local gym's class schedule to view the full range of strength training classes available near you.
Cardio Strengthening | Group Fitness Classes For Weight Loss
Cardio exercises can strengthen your heart, lower your blood pressure, alleviate stress, and improve your overall health. If you are looking for an effective cardio class, there is a range of different group fitness offerings that accommodate this goal.
Indoor Cycling (Spinning) Classes: Indoor cycling can work your heart while you burn calories and strengthen your lower muscle groups. This class style is also modifiable and low-impact, so cycling is easily accessible to participants at any level.
Zumba: The perfect combination of dancing, cardio, and fun, Zumba classes are designed to get your heart rate up while you enjoy a powerful and exciting workout.
Les Mills BodyAttack: Les Mills workouts are designed to push your limits to the max. The BodyAttack class combines strength training with cardio for a comprehensive and effective workout.
These group fitness courses are beneficial to your fitness goals and your overall well-being. Cardio is an essential element of every workout routine, and group fitness classes can help you stay committed and accountable when incorporating these exercises into your schedule.
Balance and Mobility
Balance, mindfulness, and mobility are important fitness goals that you can achieve through a variety of different group fitness classes. These include: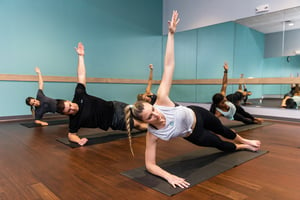 Pilates: Pilates is a low-impact, muscle-toning class designed to challenge your strength and help you move towards your fitness goals. Known for improving your mobility and flexibility while energizing your muscles, Pilates is a rewarding and effective group fitness class.
Yoga: For balance, strength, stress relief, and flexibility, yoga classes are perfect for giving you the stability that you are seeking, as well as a wide range of other health and fitness benefits. Find out more about which yoga class is right for you and your goals here.
PiYo: An equal balance between Pilates and yoga, PiYo combines the best of these two practices for a well-rounded and challenging workout that will help you achieve your fitness goals.
Take advantage of the structure and guidance that group fitness courses offer these practices. These classes also provide a reliable outlet of improvement for your mindfulness, balance, mobility, flexibility, toning, and other fitness goals.
Group Fitness Classes Near Me
If you are looking for group fitness classes in your area, check out the wide selection of offerings available at your local O2 Fitness location. You can find O2 Fitness in Raleigh, NC; Charleston, SC; Wilmington, NC; Mount Pleasant, SC; and beyond! Sign up now to take advantage of a free 3-day trial and kickstart your fitness goals today!
---