Have you ever walked by the group fitness studio during a Zumba class and thought, "Why does it always look like they're having such a great time?" It's because they are!
If you have never checked out an O2 Fitness Zumba Fitness class, what are you waiting for?!
Take a chance and give a Zumba class a try! Just know you're about to have the most fun you've ever had while working out in this dance-inspired fitness class based on Latin and international rhythms.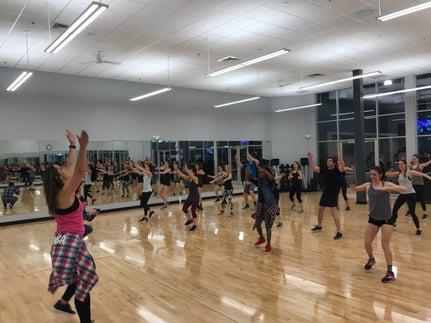 In addition to getting a great workout and having a great time, you will experience the most famous dances and rhythms worldwide: Salsa, Merengue, Cumbia, and Reggaeton.
No, you don't need to have any dance experience or know those dance styles. Even if you claim to have "two left feet," your Zumba Instructor will confidently lead you through the class. All you need to do is show up and follow along!
Do you still need more convincing to get into a class? Check out these 5 other amazing benefits of taking a Zumba Class:
Zumba is a Total-Body Workout.
This class is specifically designed to combine dancing and aerobics. There's no right or wrong way to do Zumba. As long as you're moving to the beat of the music, you're doing it right (and getting all the benefits!) The class will have you moving your entire body and having fun, so you'll get a full-body workout that doesn't feel like work!
Zumba Promotes Endurance.
With relatively fast-paced latin beats playing, moving to the beat during your Zumba class can help you build your cardio endurance after just a few classes. Zumba's standard hour-long classes will make your body accustomed to ongoing exercises and energy expenditures, making your workouts easier and enjoyable. Plus, it will help you burn more calories overall.
Dancing is Great for Reducing Stress.
I feel confident saying that EVERYONE gets stressed. Stress is normal, but making time for things that help relieve stress is important. Losing yourself to the music and unplugging from the outside world is a great way to relieve stress! The dancing and moving you do in your Zumba class will release endorphins to increase those good feelings and eliminate the stress hormones you're holding in.
Dancing Helps Improve Your Coordination.
In Zumba, you really get to dance like nobody's watching! You'll get a lot of movement in your legs and arms, so even the not-so-coordinated can get a great workout. These dance routines are easy to follow by repeating different movement combinations, which will work to improve your coordination over time and help you feel more confident when moving your body!
You'll get a Major Confidence Boost (In and Out of the Gym!)
Of all the group fitness classes you could take, Zumba's social aspect differs from most classes you'll experience. Zumba is truly a community of people supporting, encouraging, and motivating each other to move and be happy! You might start this class to improve a few of your dance moves and your physical health. But a fun, informal setting like a Zumba class can also help make you feel more comfortable with your body, which improves self-confidence and encourages you to return for another workout soon! Zumba is an exercise combined with self-expression, celebration, and exploration of one's body.
Ready to join the fun and experience these 5 benefits of Zumba?! O2 Fitness offers unlimited access to Zumba and Zumba Gold (our Silver Sneaker-friendly version of Zumba) classes for all our members and trial pass holders! Not to mention, they're also available to stream online at GO2 Fitness.com. So what are you waiting for? Try a Zumba class today!
---