Have you ever walked by the group fitness studio during a Zumba class and thought to yourself, "Why does it always look like they're having such a great time?" It's because they are! If you have never checked out an O2 Fitness Zumba Fitness class, what are you waiting for? You're about to have the most fun you've ever had while working out! Zumba Fitness is a dance inspired fitness class based on Latin & International Rhythms.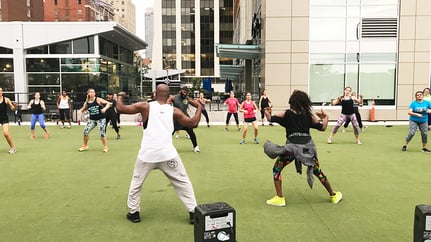 In addition to working your body and having a great time, you're also traveling around the world and dancing to rhythms such as: Salsa, Merengue, Cumbia, Reggaeton. No, you don't have to have any dance experience or know what any of those dance styles are. Your Zumba Instructor will be there to lead you through class, all you need to do is show up and follow along. Still need convincing? Here are 5 amazing benefits of a Zumba Class:
It's a total-body workout: Designed as a combination of dancing and aerobics, there's no right or wrong way to do Zumba. As long as you're moving to the beat of the music, you're doing it right. Zumba involves movement of the entire body so you'll get a full-body workout that doesn't feel like work.
Promotes Endurance: Since music played during a Zumba class is relatively fast-paced, moving to the beat can help build your endurance after just a few workouts. Zumba's standard hour-long classes get your body accustomed to ongoing exercise and energy expenditure, which can make working out easier, more enjoyable and burn more calories overall.
Reduces Stress: Who doesn't need some stress relief every so often? Losing yourself in a dance routine and unplugging from daily life is a great way to relieve stress. Zumba causes the release of endorphins and neurotransmitters that can improve mood and eliminate stress hormones in the body.
Boosts Confidence: The social aspect of Zumba is different than most workout situations. By improving your dance moves and your physical health in a fun, informal setting like a Zumba class can make you feel more comfortable with your body, which improves self-confidence, and encourages you to return for another workout soon! Zumba is an exercise combined with self-expression, celebration, and exploration of one's own body.
Improves Coordination: Zumba involves a lot of movement in your arms and legs so even the not-so-coordinated can get a great workout. The dance routines are easy to follow with repetition, which in turn improves coordination over time and helps you feel more confident with moving your body. Dance like nobody's watching!
Ready to join the fun and experience these 5 benefits of Zumba? O2 Fitness Zumba classes are currently offered in many forms. If you are a member at a South Carolina club, check out our class schedule and attend a Zumba class near you. If you are a member at a North Carolina club and can't make it to the gym just yet? Register for GO2 Fitness access today! It is complimentary with your O2 Fitness membership. Gain access to on-demand Zumba workouts or attend one of our live streamed Zumba classes, hosted by out O2 Fitness Studio Trainers daily. Not a member yet? Sign up for one of our free trials today! 7-Day Free Trial at a South Carolina club or 10-Day Free Trial to GO2 Fitness.
---