Back-to-school season is always a busy one for parents and their families. From extracurricular activities and sports games to new school schedules, it can be difficult to find time to maintain your fitness routine amidst the day-to-day obligations. O2 Fitness is here to lend a hand to busy parents looking to balance family with fitness.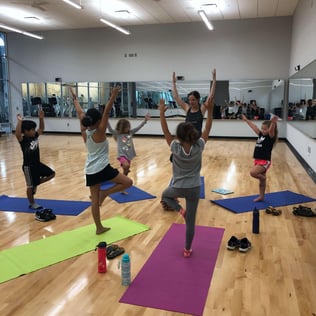 Take Advantage of Kids Club
Did you know that O2 Fitness has onsite childcare Monday through Saturday? Starting on October 6, Kids Club will be available 7 days a week giving parents the perfect opportunity to fit in a workout. Our Kids Club welcomes children from 6 weeks to 12 years old for up to two hours at a time while you head to a group fitness class or hit the weights.
Our incredible Kids Club team members offer fun and engaging programming for our little members including games, themed dress-up days, crafts, and even special visits from local firefighters. Once a month, participating locations offer Parent's Night Out on Friday nights where parents can drop off the kids at O2 Fitness and head out on a date night.
Talk to a membership consultant today about adding Kids Club to your membership for just $10 per month!
Try Group Fitness Classes
O2 Fitness offers 800+ hours of group fitness classes each week across all of our locations ranging from early morning class times to post-work evening times. Even on weekends, you can find a variety of classes offered at a club near you so that you have plenty of opportunity to squeeze a workout in. Short on time? No problem. Our variety of group fitness classes range from 30 to 45 to 60 minutes.
Involve the Whole Family
In addition to group fitness classes for adults, O2 is now offering pop-up kids classes in partnership with Growga and Sensei Seth. Currently available at participating Triangle locations, parents can drop their kids off in the group fitness studio for a soothing, mindful yoga class or an energy-blasting introduction to karate. Let your little one burn off that energy while you get in a workout yourself out on the floor!
Stay up-to-date here on pop-up kids fitness classes near you!
Embrace the Lunch Hour Workout
Sometimes working out before or after work just isn't possible. On those extra busy days, stop in to O2 on your lunch hour for a quick sweat session. All O2 Fitness locations are equipped with locker rooms including showers, soap, hair dryers, and complimentary towel service to freshen up after your workout. You'll be back to your desk in no time feeling energized for the rest of your workday!
Get an Accountability Partner
The hardest part about a fitness routine is staying consistent and showing up week after week to work towards your goals. That's where personal training comes in! A personal trainer can not only help you avoid injury and safely perform effective exercises, but they can also motivate and support you on your fitness journey. It's a lot harder to avoid the gym when you have a scheduled session with a trainer who is holding you accountable. Your O2 Fitness membership comes with two free sessions with a personal trainer to help you get started. Schedule your first Program Design session today!
---