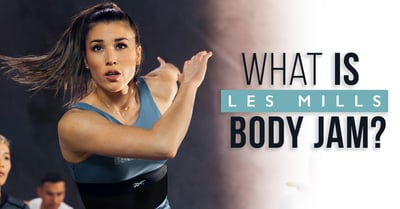 If you're a fan of group fitness classes, it's pretty likely you've heard of or tried a Les Mills class before.
Les Mills is one of the leading names in terms of studio fitness. They have a variety of different class options that you can pick from based on what your fitness goal is and how you like to get up and move. One program that stands out is Les Mills BodyJam.
Learn what to expect in your first BodyJam class, its benefits, and why it's winning over group fitness enthusiasts everywhere!
What is Les Mills BodyJam
Les Mills BodyJam is a dance-based fitness class that uses choreographed routines to current hip-hop and EDM music for a high-energy cardio workout session! This class aims to create a fun and exhilarating atmosphere that feels more like a dance party than a traditional workout.
Unlike the Latin flare of Zumba, BodyJam uses a carefully curated playlist of popular chart-topping hits. The music is modern, and the choreography is crafted to be accessible to people of all fitness levels so everyone can experience the joy of movement and self-expression!
Benefits of BodyJam
Beyond the infectious beats and electrifying workout atmosphere, Les Mills BodyJam provides a variety of physical and mental benefits to participants. Here are just a few of the reasons why you should add BodyJam to your fitness routine:
Cardio and Full-Body Conditioning
BodyJam is a high-energy workout that will get your heart rate up fast for a quick and easy cardio training session. The continuous movement works to help improve your endurance and stamina. Plus, the dance-inspired movement works to engage multiple muscle groups throughout your body to help you tone and strengthen, resulting in an easy full-body conditioning workout.
Improved Coordination and Balance
Learning and executing new dance routines in BodyJam challenges your coordination and balance. You'll progress through the choreography, and before the class ends, you'll notice improvements in your agility, motor skills, and body awareness!
Stress Relief and Mood Boosting
The combination of upbeat music, movement, and the support of everyone in the group fitness studio creates a positive environment like no other. BodyJam at the end of a long workday can help to reduce your stress, boost your mood, and enhance your overall well-being.
How to Get Started
Excited to go ahead and give Les Mills BodyJam a try? Here's how you can get started:
Find a local gym or fitness studio that offers Les Mills classes. Many local gyms offer a variety of classes that are included with a membership, so you can avoid paying extra for taking the classes you love.
Talk to a BodyJam Instructor. Reach out to the BodyJam Instructor at the studio you've chosen to learn about class availability, schedules, and any prerequisites or equipment they suggest bringing.
Prepare for your first class. Dress in comfortable, breathable workout attire, bring a full water bottle, and arrive a few minutes early to claim a spot. Don't forget to ask the instructor any final questions before getting started.
Embrace the experience! Keep an open mind and let loose! Remember, it's not about perfection - it's about getting active!
---