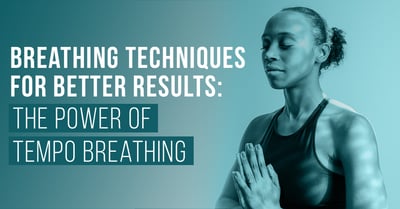 Breathe in, breathe out - pretty simple, right?
When it comes to exercise, the timing and quality of how you breathe during your workout can impact performance. Whether the goal is to run faster, lift heavier, or hold your warrior pose with ease, read on to discover the best breathing technique to get the most out of your workout and enhance your overall well-being!
What is Tempo Breathing?
Tempo breathing is a technique that focuses on inhaling and exhaling at a specific pace so that your breath matches the rhythm of your movements. By syncing your breath to your movements, you can increase oxygen flow to your muscles to improve your endurance and blood flow to your brain to increase your energy levels during your workout!
How Does Tempo Breathing Help?
Tempo breathing can help you increase your energy levels and reduce fatigue to get better results from your workout. When you focus on breathing, you can control your heart rate and improve your focus and concentration. It can also help you prevent injury by maintaining proper form and reducing tension in your body.
The Benefits of Tempo Breathing
Tempo breathing is a simple technique that you can easily start using in your workout routine to improve your fitness and overall health. Some of the benefits of using tempo breathing include:
Increased endurance and stamina.
Reduced stress and anxiety levels.
Enhanced focus and concentration.
Improved recovery time.
Breathing is often overlooked, but mastering your breath can significantly improve your gym performance and overall well-being. So next time you're at the gym or feeling stressed, try tempo breathing!
Remember to refer a friend to try O2 Fitness Club's 21-day free trial to win a free year-long subscription to the Headspace App. Share the power of tempo breathing with your friends and family, and start experiencing the benefits of this technique together.
---