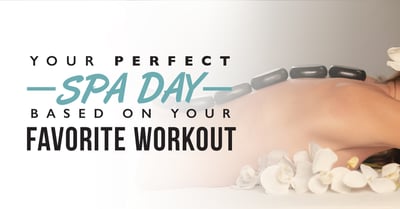 A lot of us love our weekly BodyPump and yoga classes because of how strong, happy, and confident we feel at the end of a great workout!
We all know by now that exercise has a ton of health benefits, but how are you recovering after your workouts?
If you've been busy crushing those gym sessions, you need to take some extra time to help your mind and body to recover too. What better way to get some much-needed R&R than a day at the spa!? That's why we're here with tips to help you pick the best treatments to keep your mind and body healthy, no matter which workouts you love.
Keep reading to learn what spa treatments would benefit you most based on your favorite way to sweat!
If you like HIIT or Cardio workouts...
If you like high-intensity workouts that get your heart racing, then you're probably used to getting pretty sweaty. Cardio lovers need a spa day that's all about muscle relaxation and skin revitalization.
Your ultimate spa day would begin with a full-body scrub to exfoliate and rejuvenate your skin. Then, unwind with a quick sweat sesh in the steam room or sauna to continue to soothe your muscles and reduce inflammation. Finally, complete your spa day with a facial to nourish and rehydrate your skin.
For the Yoga Lovers...
If you're a yoga class regular, then you're no stranger to making time to relax. Although your weekly yoga session helps you stay well-stretched and flexible, we think your ultimate spa day needs to begin with a gentle massage. This will help to release any tension or knots that you may have built up during your practice.Then, treat yourself to a steam bath or sauna session to fully clear out any leftover toxins from your body. Finally, wrap up the day with a calming meditation session to help you recenter your mind and body!
Weightlifters Need Self-Care Too...
If you're into weightlifting, your body deserves (and probably needs) some time dedicated to a good stretching and recovery treatment. Your ultimate spa day would start with a hot stone massage to relax your muscles and increase blood circulation to enhance your muscle recovery. Then, get a deep tissue massage to help break up any knots and soreness that may have developed since your last lifting session. Then end your spa day with an ice bath or a cryotherapy session to increase blood flow to your muscles again to reduce any remaining tension and inflammation to make sure you're ready to hit the gym again ASAP.

No matter what your favorite way to work out is, we all deserve a little extra me-time to help us feel refreshed. If you're stressed or just need some time to reset, make time to move, whether you love sweating it out in the studio or just hitting the gym.
(And don't forget to remind your friends that they need to make time to move and recover too!)
---