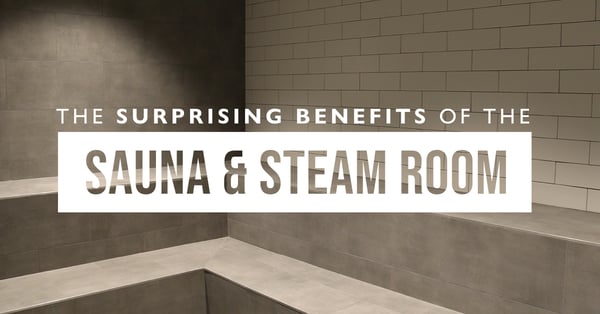 Whether you prefer sweating it out in a sauna or steam room (which is a type of sauna, fun fact), the effects of heat on your body are loaded with benefits. Keep reading to learn all the benefits these heated recovery tools can give you!
1. POST-WORKOUT AND GENERAL RELAXATION
After a hard workout, your muscles need time to relax. Same with your brain!
Warming your body from the inside out works wonders when you want to decompress after a long day. Both rooms are quiet and peaceful. You'll have time to set your intentions for the day, the week, or the month.
Plus, you'll find a few moments of silence where you can focus on your breathing and clear your mind to fully relax after a long day.
2. RELIEVES JOINT AND MUSCULAR TENSION
The heat from saunas and steam rooms soothes your nerve endings, and the heat warms up and relaxes your muscles. Using heat to relieve muscle tension is very important, especially after exercise or other forms of muscle strain.
The high-heat environment can also work to minimize joint pain as well as arthritis, migraines, and headaches.
3. REMOVES TOXINS
Sweating is a really effective way to remove toxins from the body quickly. Sitting in a sauna of steam for just 20 minutes can rid the body of an entire day's sweat and all of the toxins that come with it.
(This is also handy if we overindulge at the pool or cookouts over the weekend now that the weather is getting warmer!)
4. REDUCES STRESS
The heat of a steam room or sauna can help your body produce endorphins, aka those feel-good hormones that help reduce stress and anxiety!
Heat treatment activities can also help put you in a state of mindfulness more easily so you can take a few moments to really focus on your breath, both of which have many psychological benefits. These may include improved sleep, reduced stress, and a better mood as the result of taking time to focus on doing something positive for yourself.
5. CLEARS THE SKIN
Just from being out and about, your skin gets exposed to all sorts of toxins. These toxins get trapped underneath your skin, but the steam from a steam room can open up your pores to easily release these toxins. The warm condensation on your skin can also help rinse away the dead skin and dirt that can cause unwanted breakouts.
Even the sauna can help improve the look of your skin by using heat to increase and improve your blood circulation through your whole body to give you a healthy glow (and to make your skin look and feel great!)
6. PROMOTES HEALTHY BLOOD FLOW
Capillaries dilate when exposed to the heat of a sauna or steam room, so spending just a few minutes in the heat can help your blood flow freely and easily through your whole body. Helping to transport freshly-oxygenated blood everywhere you need it to, leaving you feeling refreshed and recovered.
7. TREAT CARDIOVASCULAR DISEASES
When you're in a sauna, your body reacts to the heat and humidity in a similar way that it responds to mild exercise. This gets your heart pumping, exercising the muscle without exhausting it, making it stronger without risking injury or disease.
8. OPENS THE SINUSES
It's springtime, so allergy season is in full swing & our sinuses are feeling it. Wet heat works to open and thin the mucous membranes in your body, sinuses, throat, and lungs. That's why you can feel like you're breathing clearer when you immediately enter a sauna or steam room. This can be especially beneficial for those with chronic congestion or sinus infections!
Takeaways...
There are many health benefits have been attributed to heat therapy.
While steam rooms and saunas should never replace treatments that your doctor has prescribed, they are a great place to unwind and reap some extra health benefits from the gym while you're at it!
---