You no longer have to miss workout sessions when you travel. O2 Fitness has joined the IHRSA Passport Program, powered by TrainAway, allowing members to quickly and affordably access great fitness clubs all over the world.

Stay on track, wherever you go
Most of us have faced the same issue when traveling: not maintaining our exercise routine for a set period of time. After we return home, we might have lost some of the motivation to keep it up or just be demoralised by the amount of progress we've lost. And though short vacations won't slow down our fitness journey too much, frequent and longer travel might have a negative impact on our results and motivation.
Luckily, there is now an effortless way to avoid these non-active periods and to stay in your routine, regardless of where you are.
Access more than 1300 clubs around the world
Visiting popular US cities, such as Las Vegas, Los Angeles, New York City or Washington DC? Or exploring the beauty of Canada, Europe or Asia? You can now enjoy easy and quick access to health clubs in all of those destinations, thanks to the partnership between O2 Fitness, IHRSA and TrainAway. There are over 1300 gyms available for you to choose when traveling.
Our participation in the IHRSA Passport Program means that members can purchase exclusive access to other clubs in the program at a discounted rate, via the TrainAway app.
For IHRSA Passport users visiting North Carolina and South Carolina, it's now possible to book day passes to O2 Fitness clubs through TrainAway.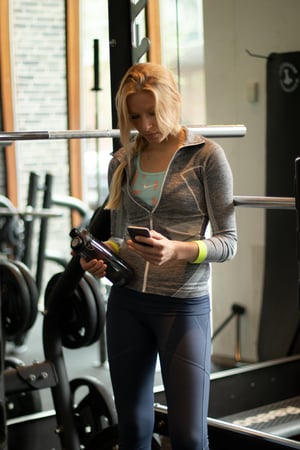 Bring your fitness journey with you when traveling
Although business trips can be unavoidable and leisure travels expand our knowledge of other cultures, they can also have a negative impact on our healthy lifestyle. It's common for us to skip gym sessions and abandon our diets, and consequently feel we lose traction against our weight loss, strength-building and other fitness goals.
Of course, you can try one of the alternative ways of working out while traveling, such as bodyweight workouts, running or biking. But you wouldn't enjoy the same results as you would if you continued your regular gym sessions. A full-service gym with its facilities, equipment and motivating environment allows you to enjoy a challenging workout just as you would back at home.
By exercising in a club in another country, you'll also get exposure to different exercise trends and knowledge that can help you on your fitness journey and boost your motivation when you come back home.
How does it work?
Just follow these simple steps to get started. Before doing so be sure to ask an O2 Fitness team member
for our Passport invitation code, which will allow you to experience the TrainAway app as a Passport
user, and to save 25% on the price of a one-day pass at Passport clubs.
Download the free TrainAway app and enter the invitation code when setting up your
profile.
Search for a club in the area where you are traveling and purchase a one-day pass.
When you arrive at the club to work out, activate the pass on your phone and show the front
desk.
Enjoy your workout!
Start exploring your next fitness destination today by heading to www.trainaway.fit.
For more information and a video tutorial, please click here.
---