Written by: Drew Schultz, Personal Trainer and Kinesis Instructor, O2 Fitness Falls/540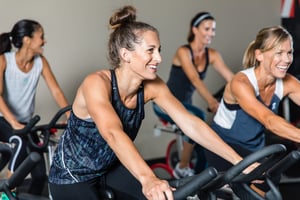 We often assume that because one ages, that he/she will not perform as well as years past. A colleague of mine, Danielle, who is one of our most knowledgeable personal trainers at O2 Fitness Falls, posed the question a while back: is it because we age that we may get weaker, or because we think we should be backing off on intensity that causes us to feel/perform weaker?
Fitness is Explainable!
Not uncommonly, what we see/experience seems to defy what the textbooks tell us- this is true in many areas in life, but in fitness it is explainable. Adaptation. I will declare that the best performing trainees/clients I have the pleasure of working with are in their sixties. Why? Because these individuals adapt, set new goals, and train smartly.
When one has exercised regularly for years, it becomes harder to seemingly make progress. The body has had plenty of time to adapt. When one is new to exercise, or changes their mode of exercise, guess what? Progress, or positive adaptation. There are numerous people in their sixties who have been taking Kinesis now for years- and one couple are avid half-marathoners (having run five in one year a couple years back!) There is a retired couple in their sixties who are avid skiers and cyclists, and in recent years completed several 75 mile rides- and just completed their first 100!
We often see marathoners who are more mature, and when they started later in life their body didn't know the difference-it was if they had dormant potential all these years. At the same time, there are others who started young, but years of cumulative damage have taken their toll.
Fitness Training Around Injuries
It is also very realistic to train around injures- and yes, because we age, body parts can be more brittle, weaker, and less apt to heal as well as in the past. Case in point- the husband in the cycling couple had an a/c separation from a biking accident- but is now stronger than ever on the incline bench press. We found that other angles were not as friendly on the shoulders. Other individuals with specific injuries or circumstances may find the opposite is true. This same person also suffered a herniated lumbar disk while on a ski trip. Within five months, he could hold an incline plank on a stability ball for four and a half minutes!
Whatever age you are, there is always progress to be made. It just takes the right approach. Remember the main components of fitness: strength, cardiovascular, flexibility, and balance. Are you focusing on some of these more than others? How is your posture? Are there any past injuries you feel may have limited you in your workouts? We can sit down with you and help you set goals and a game plan of how to safely achieve them.
---