Father's Day weekend is around the corner, meaning it's time to break out the beer and fire up the grill. Don't let your weekend fun get in the way of your fitness goals. Whether you're heading to the beach or cooking out by the pool, there are plenty of healthy ways to kick back and relax this Father's Day weekend.

Still looking for the perfect gift for dad? Enter to win a Garmin Forerunner 645 from Fleet Feet Wilmington!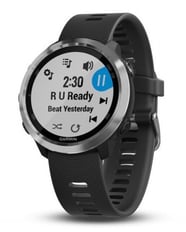 We're serving up five tips to stay on track during your summer celebrations along with a healthy recipe for Ginger Pineapple Kabobs. Try them out this weekend for a fun and fit Father's Day!
5 Tips to Stay On Track through your Summer Celebrations:
Pick your poison.
We're not saying don't enjoy a cocktail or three this weekend. What we are saying is that if you decide to indulge, there are some alcoholic beverages that are better than others. Light liquor is less caloric than dark liquor. Stay away from mixed drinks—the juice and/or soda packs high quantities of sugar that will wreak havoc on your blood sugar. This not only makes your calorie count skyrocket, but will have you reaching for sweet and salty treats before you know it. We recommend swapping your margarita or pi

ñ

a colada (both of which can pack up to 500 calories) for red wine or flavored vodka with a splash of soda water and fresh lime juice—roughly 100 calories each. Although beer might taste the most refreshing on a hot pool day, it rounds out the bottom of the list. If beer is your go-to, stick to low-carbohydrate options like Michelob Ultra or Bud Light. Remember, alcohol causes the battle of the bloat. Drink plenty of water between rounds to stay hydrated and looking lean in your bathing suit.

When you can, keep it colorful.


Rule of thumb: the more colorful your plate is, the healthier. We tend to be on-the-go when celebrating holiday weekends, which means we typically reach for food that's fast and convenient. Unfortunately, these eats like bread, white pasta, chips, crackers, and sweets tend to be highly-processed, sugar-ridden, and nutritionally deficient. Not to mention they put you in a food coma which is counterproductive when trying to surf the waves, hit the pool, man the bonfire or wake up for your morning run on the beach. Try to incorporate color into every meal, even if it's just one piece of fruit or grilled vegetables. You aren't going to be perfect with food this weekend. In fact, you shouldn't be. It's not a time to count your calories, but to enjoy your food, drinks and time with family and friends. But, a few tweaks here and there do go a long way.


Protein > Carbs


Simple carbohydrates like chips and crackers are sugar-heavy and will send your blood pressure through the roof. In turn, your energy will crash and you'll crave other simple carbs to satisfy your hunger. Then, the roller coaster continues. Instead, incorporate lean protein (chicken, turkey, pork, tofu) with your meals. A combination of lean protein, good fat, and healthy carbs is the most ideal. Protein not only fuels your body for good energy but it also keeps you full longer. It's a win-win when you want to stay at the beach or pool all day long.

Water, water, water


Summer means sunshine and sweat, so it's easy to get dehydrated. When you're body is dehydrated, your skin looks dry and dull, you feel faint, fatigued, moody, irritated, and the list goes on. Drinking fluids is crucial to looking and feeling healthy and maintaining proper function of every system in your body—heart, brain and muscles. Shoot to drink enough water to equal half of your bodyweight in ounces every day. If you're out in the sun or being extra active, aim for more.

Stay active.


Father's Day weekend is a time to relax and restore, enjoy time with family, and celebrate the great father figures in your life. Fitness does not have to be at the top of the to-do list. All we ask is that you try to incorporate a little activity throughout your day—walk around for more steps, play frisbee on the beach, attempt surfing, toss around the football, or have a push-up contest. Keep it fun and make it a group affair.
For more summer fitness & diet tips, check out these 10 Tips to Get in Shape for Summer.
Healthy Grilling Recipe:
What are you cooking up this Father's Day? Here's a recipe to keep your friends and family healthy, and more importantly, impress them with your cooking skills. Enjoy!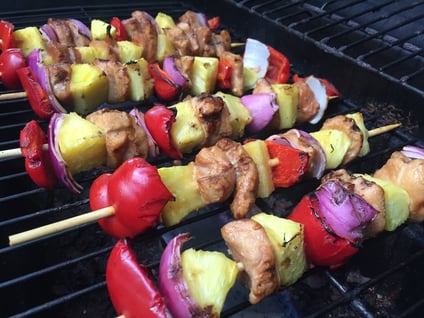 Ginger Pineapple Kabobs

Ingredients:

Bamboo skewers

1 lb. raw chicken breast, boneless, skinless, cut into 1-inch pieces

1/4 cup reduced-sodium soy sauce

2 tsp sesame oil

2 tsp grated fresh ginger

1 pineapple cut up in 1-inch chunks

1 Red bell pepper, 1-inch chunks

1 Red onion, 1-inch chunks
Preparation:
Soak bamboo skewers in water for 30 minutes (this is key so they don't catch on fire)

Place chicken in resealable plastic bag; add soy sauce, oil, and ginger; seal bag and shake gently to mix. Refrigerate at least 30 minutes or overnight to marinate.

Preheat gas or charcoal grill on medium heat.

Place a piece of chicken, pineapple chunk, bell pepper, and onion onto a skewer. Repeat, so the skewer has an even amount of colorful ingredients. Discard marinade that contained raw chicken.

Grill skewers on covered grill for 4 to 5 minutes on each side, or until chicken is no longer pink in the middle.

Serve while hot and enjoy!
On behalf of all of us at O2 Fitness, have a safe and relaxing Father's Day!
---