It's National Okra Month! Okra is high in fiber, vitamin C, and folate. It is also known for being high in antioxidants and is a good source of calcium and potassium. Try this southern Louisiana dish, Okra-and-Corn Maque Choux, for a great summer recipe!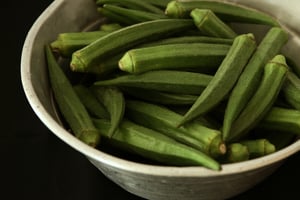 Okra-and-Corn Maque Choux
Use fresh corn and okra for best results. If you don't like spicy food you can easily sub the hot sausage for a milder version to fit your taste or substitute with turkey smoked sausage for a healthier option.
Ingredients:
¼ pound spicy smoked sausage, diced
½ cup chopped sweet onion
½ cup chopped green bell pepper
2 garlic cloves, minced
3 cups fresh corn kernels
1 cup sliced fresh okra
1 cup peeled, seeded, and diced tomato (½ lb.)Salt and freshly ground pepper to taste
Directions:
Sauté sausage in a large skillet over medium-high heat 3 minutes or until browned.
Add onion, bell pepper, and garlic, and sauté 5 minutes or until tender.
Add corn, okra, and tomato; cook, stirring often, 10 minutes.
Season with salt and pepper to taste.
---