Quinoa (pronounced KEEN-wah) is an excellent whole-grain to include in your meal planning and is often considered a "superfood". This grain is high in protein, a good source of dietary fiber and phosphorus, and is high in magnesium and iron.
Quinoa is a great option for vegans and lactose intolerant individuals to include in their diet as it is a good source of calcium. Quinoa is gluten-free and considered easy to digest.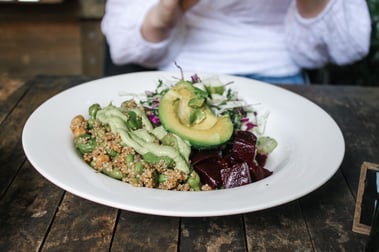 Lentil Quinoa Salad
Makes 4 servings | Prep Time: 15 minutes | Cook Time 30 minutes | Total Time: 45 minutes
Ingredients:
½ cup quinoa
1-¼ cups water, plus 2 cups
½ cup lentils
1 teaspoon Dijon mustard
2 tablespoons red wine vinegar
¼ cup vegetable oil
¼ teaspoon garlic powder
1 lime, zested
Kosher salt
Freshly ground black pepper
2 green onions, chopped
1 tablespoon chopped fresh cilantro leaves
Directions:
Put the quinoa in a sieve and rinse in cold water.
In a large microwave-proof bowl with a cover, add the rinsed quinoa and 1-¼ cups water. Cover and microwave on high for 9 minutes. Let it sit for 2 minutes then stir. Quinoa should be tender enough to eat, but with a little "pop" upon biting.
Put the lentils in a sieve and rinse in cold water. In a saucepan, simmer the lentils in 2 cups water until the lentils are tender, but not mushy, about 30 minutes. Drain and cool.
In a small bowl, whisk the mustard and vinegar together, and drizzle in the oil to make an emulsion. Add the garlic powder, lime zest, and salt, and pepper, to taste.
To Assemble the Salad:
In a medium salad bowl, mix the quinoa, lentils, green onions, and chopped cilantro.
Top the salad with the dressing, toss to coat and serve.
---