Salmon is a great source of protein and contains high amounts of omega-3 fatty acids (healthy fats), which help maintain heart health and may lower the risk of developing cardiovascular disease. Salmon is a good source of a variety of B vitamins, which aid in energy metabolism.
Each serving of salmon is very high in vitamin B12, providing roughly 72 percent of what is needed each day. The American Heart Association (AHA) recommends that healthy adults consume fish at least twice a week to ensure adequate omega-3 fatty acid intake.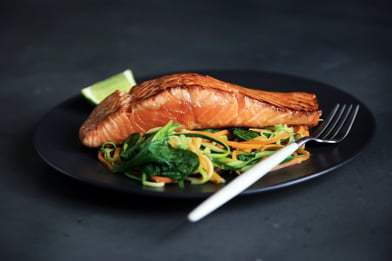 Recipe: Grilled Salmon
Ingredients:
1 ½ pounds salmon fillets
⅓ cup soy sauce
⅓ cup brown sugar
⅓ cup water
¼ cup vegetable oil
Lemon pepper to taste
Garlic powder to taste
Salt to taste
Directions:
Season salmon fillets with lemon pepper, garlic powder, and salt.
In a small bowl, stir together soy sauce, brown sugar, water, and vegetable oil until sugar is dissolved.
Place fish in a large re-sealable plastic bag with the soy sauce mixture, seal, and turn to coat.
Refrigerate for at least 2 hours.
Preheat grill for medium heat.
Lightly oil grill grate.
Place salmon on the preheated grill, and discard marinade.
Cook salmon for 6 to 8 minutes per side, or until the fish flakes easily with a fork.
Prep Time: 15 minutes | Cook Time: 16 minutes | Total Time: 2 hours & 31 minutes
---