Written by Kate A. Mascho, RD, LDN – Registered Dietitian, Poe Center for Health Education
Spinach is a very nutrient-dense food. It's low in calories yet very high in vitamins, minerals and other phytonutrients.
This leafy green is an excellent source of vitamin K, vitamin A, magnesium, folate, manganese, iron, calcium, vitamin C, vitamin B2, potassium, and vitamin B6.
Cranberry Spinach Salad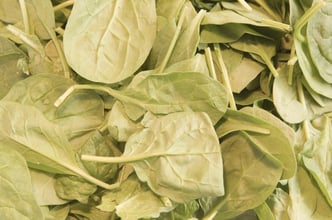 Ingredients:
1 tablespoon butter
¾ cup almonds, blanched and slivered
1 pound spinach, rinsed and torn into bite-sized pieces
1 cup dried cranberries
2 tablespoons toasted sesame seeds
1 tablespoon poppy seeds
½ cup granulated sugar
2 teaspoons minced onion
¼ teaspoon paprika
¼ cup white wine vinegar
¼ cup cider vinegar
½ cup vegetable oil
Directions:
In a medium saucepan, melt butter over medium heat. Cook and stir almonds in butter until lightly toasted. Remove from heat, and let cool.
In a medium bowl, whisk together the sesame seeds, poppy seeds, sugar, onion, paprika, white wine vinegar, cider vinegar, and vegetable oil. Toss with spinach just before serving.
In a large bowl, combine the spinach with the toasted almonds and cranberries.

Prep Time: 10 minutes – Cook Time: 10 minutes – Ready In: 20 minutes
*Serves 8, [original recipe via]
---