Summer Squash contains very little fat (only ½ gram per cup) and is mostly stored in its edible seeds. These fats include healthy fats such as omega-3s and monounsaturates.
Summer squash is an excellent source of antioxidant-promoting vitamin C, manganese and vitamin B6. It is also a very good source of heart-healthy potassium, folate, and vitamin B2. Additionally, summer squash is a good source of fiber (promotes digestion), magnesium (supports bone health) and vitamin A (supports immune health). You'll also find some protein to help support muscle growth.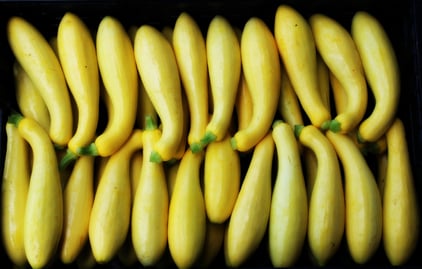 Sautéed Summer Squash w/ Red Pepper & Onions
Looking for a versatile veggie to incorporate into your meals this summer? See below for a Sautéed Summer Squash With Red Pepper and Onion recipe!
Ingredients:
2 tablespoons extra virgin olive oil
½ medium onion, chopped
(about 1 cup chopped)
2 plump garlic cloves, minced
1 ½ pounds summer squash,
cut in ½-inch cubes
1 small red pepper, cut in ¼-inch cubes
Salt and freshly ground pepper
2 tablespoons chopped fresh parsley
Directions:
Heat the olive oil in a large, heavy skillet over medium heat, and add the onion.
Stir often and cook until tender, five to eight minutes.
Add the garlic, summer squash, red pepper and about ¾ teaspoon of salt.
Turn the heat to medium-high and cook, stirring, until the squash is translucent and the red pepper tender, about 10 minutes.
Add freshly ground pepper, taste and adjust salt. Stir in the parsley, and remove from the heat.
Serve as a side dish, or use it as a filling for a vegetable tart, gratin or frittata.
**Some types of squash cook faster than others. Zucchini cooks more quickly than pattypan, for example.
Variations
Substitute 1 tablespoon chopped or slivered fresh mint, or 2 teaspoons chopped fresh marjoram, for the parsley. Sprinkle with feta or Parmesan.
Summer Succotash with Black Beans:
Five minutes after adding the squash, add kernels from 2 ears of sweet corn and 1 can of drained black beans or 1 1/2 cups shelled edamame, then proceed with the recipe. If you wish, add 2 tablespoons (or more) of chopped cilantro.
This makes a great filling for tacos (sprinkle with queso fresco or feta and serve with salsa).
[Recipe Source]
---