Turnip Greens are a cruciferous vegetable packed with nutrition. These leafy greens are an excellent source of vitamin K, vitamin A, vitamin C, folate, dietary fiber, calcium, vitamin E and vitamin B6. Additionally, they are a good source of potassium, vitamin B2, iron, vitamin B1, omega-3 fatty acids and protein.
Spicy Skillet Turnip Greens
Makes 6 servings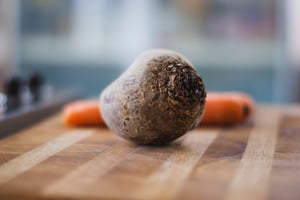 Ingredients:
1 tablespoon olive oil
1 medium onion, cut into wedges
1 pound turnip greens, cleaned and chopped
¼ cup water
pinch brown sugar
⅛ teaspoon red pepper flakes (adjust to preference)
Preparation:
Drizzle olive oil into skillet over medium heat.
Add onion and cook until just tender, about 3 minutes. Then add ½ of turnip greens. Allow to cook down and add the remainder of the greens.
Add water, brown sugar and red pepper flakes. Adjust the amount of red pepper to your personal taste.
---