Designed to work out your body, mobility, and mind, yoga classes are known to provide a thorough wellness workout. However, not all yoga classes are created equally; there are plenty of diverse yoga methods engaged worldwide that target distinct fitness goals and engage varying practices. If you have tried yoga before and did not enjoy it, there is a chance you did not try the class that is right for you. Here are six local yoga classes designed to challenge everything you know about yoga and to get you moving on your wellness goals.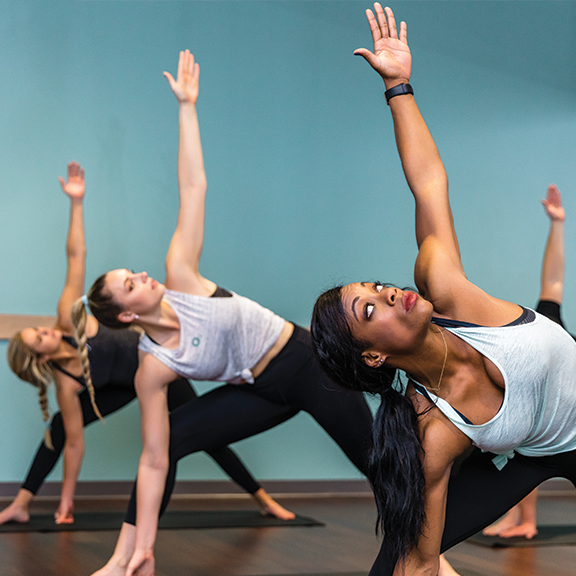 PiYo
PiYo is an innovative yoga combination that marries the best of Pilates and Yoga practices. These Pilates motions will engage and tone your muscles for an effective workout. With the addition of Yoga postures, you will stretch, lengthen, and oxygenate your muscles for a quick and healthy workout recovery. This is a low-impact, fat-burning workout, which makes it perfect for participants who are hoping to address multiple wellness goals in a single class. This practice is also known to increase mindfulness and decrease stress levels with a healthy outlet for your mind and muscles. Increase your range of motion, tone your body, and feed your spirit with PiYo.
What to wear to PiYo: Comfortable, breathable, and stretchable clothing that can handle sweat and allow full realization of your yoga postures. No shoes or socks are necessary for PiYo classes.
How long are PiYo classes: 30-minute, 45-minute, and 60-minute PiYo classes offered.
Les Mills BodyFlow
Les Mills BodyFlow combines methods from several different practices including yoga, tai chi, and pilates. These classes are designed to improve your strength, flexibility, coordination, and mindfulness. If traditional yoga classes do not feel diverse enough for your fitness style, Les Mills BodyFlow might be the yoga alternative for you. Increase your flexibility, strength, and mental peace with Les Mills BodyFlow.
What to wear to Les Mills BodyFlow: Comfortable and stretchable active clothing that does not restrict body movement or range of motion. No shoes or socks are necessary for Les Mills BodyFlow practices.
How long are Les Mills BodyFlow classes: 30-minute, 45-minute, and 60-minute Les Mills BodyFlow classes offered.
m'bala
m'bala workout classes are designed to combine the mind and the body to achieve an enlightened and empowering workout. This class incorporates strength training and cardio into a mindful wellness practice. This practice might include weight training, challenging cardio circuits, and so much more. m'bala classes will encourage you to test your physical limits and push yourself beyond fitness milestones. You should leave m'bala classes feeling mentally and physically sound. Created to balance the best of physical and mental workouts for a rewarding class.
What to wear to m'bala: Comfortable and stretchable active clothing that promotes both movement and mobility, and that you feel comfortable sweating in. No shoes or socks are necessary for m'bala workouts.
How long are m'bala classes: 60 minutes
O2 Yoga
O2 Yoga is a class designed to refresh your mind and muscles. Inclusivity is at the heart of O2 Yoga; accessible to participants of all fitness levels, this practice can be modified to accommodate those just getting started or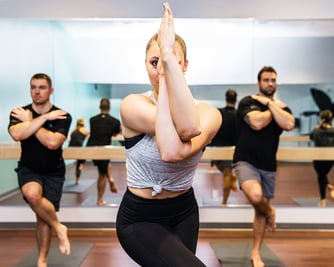 challenge even the most experienced yogis. Give O2 Yoga a try today to feel the benefits of a refined yoga experience.
What to wear to O2 Yoga: Stretchable, breathable, and movable clothes that allow for your full range of movement during your yoga postures. No shoes or socks are necessary for O2 Yoga classes.
How long are O2 Yoga classes: 30-minute, 45-minute, and 60-minute O2 Yoga classes offered.
Yoga Mojo
Vinyasa yoga is a proven circuit of postures that improves flexibility and promotes overall physical and mental health. Yoga Mojo combines both seated and standing vinyasa postures with twists, holds, and inversions to increase strength training during these sessions. Designed to challenge your strength, focus, flexibility, and stamina, these poses create a comprehensive wellness workout. If you are seeking a yoga class that will challenge you and change up your yoga routine, Yoga Mojo might just be for you.
What to wear to Yoga Mojo: Active clothing that allows for strong and flexible movement. No shoes or socks are necessary for Yoga Mojo classes.
How long are Yoga Mojo classes: 60 minutes
Local Yoga | Yoga Classes Near Me
If you are looking for yoga classes in the North Carolina Triangle or the South Carolina Greater Charleston Area, O2 Fitness has the classes you are looking for. Give one of these classes a try for free with our membership trial today!
---