Mix things up next month at our first-ever March Mashup. Bring your crew and power through a morning of unique group fitness class combinations on Saturday, March 2. Enjoy an old favorite or try something new with up to three hours of back-to-back 30-minute classes at a club location near you.
Class combinations vary from high-intensity cardio and strength training to mind~body to indoor cycling. Start with 30 minutes of BodyPump followed by 30 minutes of BodyFlow at O2 Brier Creek, or sweat it out with HIIT followed by O2 Yoga at O2 Carrboro.
Choose your location in the dropdown menu below to find out your club's March Mashup schedule.
Members and non-members welcome, so bring a friend!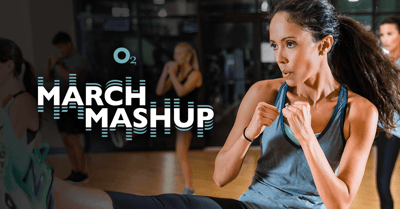 Class Schedules
8am HIIT & Yoga
9am Zumba & Cardio Flow
10am Pilates & BodyFlow
8:30am BodyCombat & Barre
9:30am BodyPump & Zumba
8:30am BodyPump & Zumba
9:30am CXWorx & BodyCombat
9:30am O2 Cycle & O2 Yoga
8:30am Jam & Flow
9:30am Barre & Pump
9:30am AquaX
10:30am Sprint & Combat
8:30am RPM (Cycle Studio)
9am BodyPump
9:30am Tabata
10am Core/Stretch
10:30am BOOM
11am Zumba Gold
Group Fitness Studio
8:30am BodyPump
9am CXWorx
9:30am HIIT
9:30am RPM
10am BodyCombat
10:30am Zumba
Mind~Body Studio
10am Yoga
Cycle Studio
9:30am RPM
Group Fitness Studio
8:30am HIIT
9am BodyStep
9:30am BodyPump
10am Core
10:30am Sh'bam
11am Zumba
Cycle Studio
9am RPM
10am O2 Ride
Mind~Body Studio
9:30am m'bala
10am BodyFlow
10:30am O2 Yoga
8:30am BodyCombat & CXWorx
9:30am BodyPump & Tabata
10:30am Barre & Yoga
9am m'bala & HIIT
10am BodyCombat & CXWorx
11am BodyPump & BodyFlow
9am BodyPump & BodyCombat
10am BodyAttack & CXWorx
11am BodyPump & BodyFlow
8:30am BodyPump
9am Rampage
9:30am BodyCombat
10am Barre
10:30am CXWorx
11am m'bala
9am Total Body Conditioning & Barre
10am BodyPump & BodyCombat
11am BodyFlow & Yoga
Cycle Studio
8:30am Bikes & Barre
Group Fitness Studio
9:30am BodyPump & BodyStep
10:30am Power Pilates & Yoga
8:30am Spin & Chisel
9:30am BodyPump & Power Pilates
10:30am BodyFlow & Zumba
8:30am BodyPump & HIIT
9:30am BodyStep & Tabata
10:35am Zumba
8:30am BodyPump & BodyCombat
9:30am Zumba & Chisel
8:15am BodyAttack & BodyCombat
9:30am BodyPump & Core
10:40am Tabata & Pilates
9:30am Zumba
10am Grit & BodyPump
11am Barre
Group Fitness Studio
9am BodyCombat & BodyFlow
10am Cardio & BodyPump
11am Core & Yoga
9:30am Kickboxing & BodyPump
8:30am Strength Training
9am O2 Ride
9:30am BodyPump
10am O2 Yoga
10:30am Zumba
11am WERQ
Group Fitness Studio
8:30am Define
9am Barre
9:30am BodyPump
10am Core
10:30am WERQ
11:15am Zumba
Cycle Studio
8:30am RPM
9am BodyFlow
Mind~Body Studio
9:45am Yoga (full class)
Group Fitness Studio
8:30am BodyCombat
9am Zumba
Cycle Studio
8am O2 Ride (full class)
9:30am RPM
10am BodyFlow
Mind~Body Studio
8:30am Barre
9am HIIT
9:30am Yoga (full class)
---