"A dream doesn't become reality through magic; it takes sweat, determination, and hard work." – Colin Powell
Do you remember your childhood dreams? Maybe you wanted to become an astronaut, a pilot, or a famous actor. Growing up an avid dancer, Taylor Filliben always dreamed of becoming a professional cheerleader for the National Football League.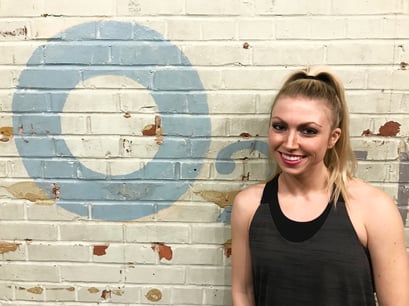 "My mother was a Philadelphia Eagles Cheerleader, so she was my inspiration for pursuing this dream," Taylor said. "I grew up hearing about her unique experiences and the lifelong friendships that she made as an NFL Cheerleader and I wanted that for myself."
Taylor's dance career initially began with a focus in ballet. After years of dancing on her high school dance team and later becoming captain of the UNC Chapel Hill Dance Team, she hit a plateau with her exercising. As a result, Taylor joined O2 Fitness Seaboard Station in Raleigh last October and decided to begin personal training to prepare for auditioning for the Atlanta Falcons Cheerleaders.
"I knew I had this goal and getting in shape was imperative if I wanted to accomplish it," she said. "I wanted to try lifting weights but I didn't know where to start. I was looking for the confidence to walk on the weight floor and know what I was doing."
Taylor's trainer, Grant Cain, specializes in athletic performance and women's health and fitness with extensive experience in training dancers.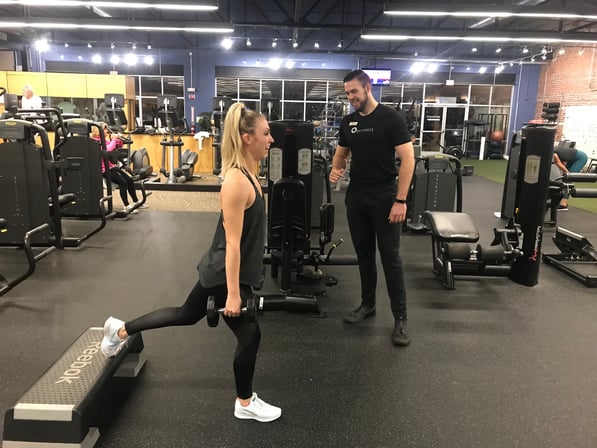 "When Taylor and I first started training her initial goal was very clear from the start. That goal was to take herself to the next level with her fitness and make the Atlanta Falcons cheer team," Grant said. "As I do with dancers, we took an athletic approach to her training, sticking primarily to strength and conditioning training while monitoring her diet closely week to week."
And so the early morning, hour-long training sessions began, six days a week. Each day Grant and Taylor would focus on a different muscle group – glutes and hamstrings on Mondays, shoulders on Tuesdays, and so on. "Right off the bat, he immersed himself in understanding how to create an athletic dancer," Taylor said. "He found my weaknesses and we worked daily to improve them."
Over the next few months, Taylor trained every day except for Sundays. On days when Grant and Taylor didn't train together, Grant put her workouts into an app where she could access her plan. "With the app it's like you're training with a trainer every day," she said.
Knowing her goal, Grant pushed her to her potential. He planned her workouts to cover stretching, lifting, core work, and light cardio. "I really saw in her how much she wanted it so I pushed her right to her max," he said. "She kept a very determined and focused mindset throughout the whole time we trained."
After spending hours in the gym each week for months, the hard work finally started to pay off.
"Besides a physical change in the way I looked, I found that my turns came easier, I wasn't winded after performing a two-minute routine and I felt stronger than ever performing the dance moves," she said.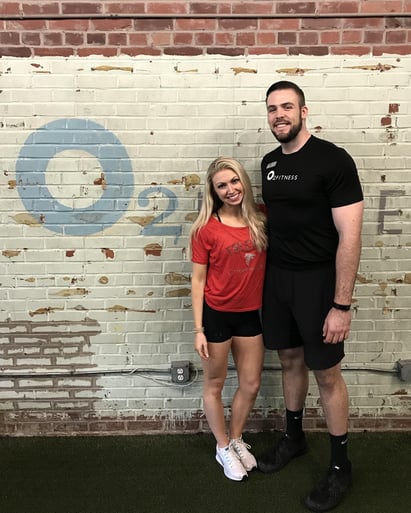 As springtime approached, auditions were right around the corner.
"Leading up to auditions, we had a little nervousness about a week out," Grant said. "But I reassured her that she was in the best shape she's been in and was very well prepared."
After months of hard work, commitment, and laser-focused training, Taylor aced her auditions in April and was called on the field to join the Atlanta Falcons Cheer Team. That night, she made sure to text Grant the good news.
"As her trainer all I could be was as happy as possible. The feeling of taking someone like Taylor to her lifelong dream was just an indescribable amount of fulfillment," Grant said.
Taylor plans to keep training with Grant until she moves to Atlanta in June, and will continue to work with him remotely throughout the season.
"I couldn't recommend working with Grant more," she said. "I am so thankful that O2 matched us to train together because he played such a vital role in my preparation."
Congratulations to Taylor from all of us at O2 Fitness!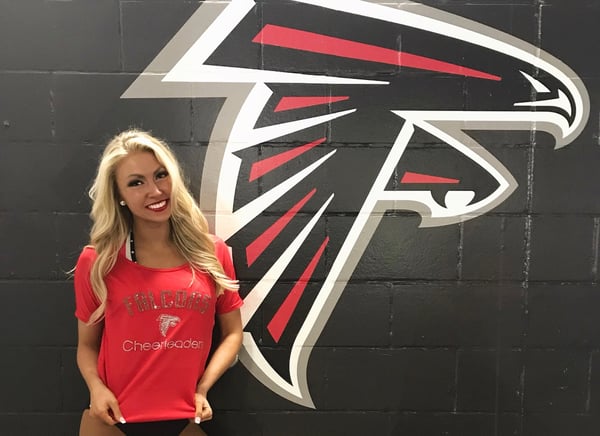 Looking to lose weight? Training for a race? No matter your fitness goal, an O2 Fitness Personal Trainer can help you get there.
---