Pecans are rich in heart-healthy unsaturated fats, fiber and antioxidants. They contain a good amount of Vitamin E, which can help lower blood cholesterol levels. Pecans also contain potassium, which helps maintain a healthy blood pressure. Serving size tip: Approximately 19 pecan halves are equivalent to a 1 ounce serving.
Pecan Cherry Trail Mix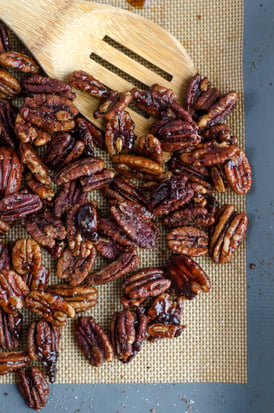 Makes 8 (¼cup servings)
Ingredients:
1 cup pecan halves
1 tablespoon vegetable oil
¾ teaspoon chili powder
⅛ teaspoon cayenne pepper
1 tablespoon sugar
1 teaspoon grated orange zest
¼ teaspoon salt (preferably coarse kosher salt)
⅓ cup dried pitted cherries
⅓ cup roasted and salted pepitas (pumpkin seeds)
⅓ cup dried cranberries
Directions:
Preheat the oven to 350°F.
Place the pecans in a small bowl. Heat the oil in a heavy small skillet over medium heat.
Add the chili powder and cayenne and stir until fragrant, about 15 seconds. Pour over the pecans.
Mix in the sugar, orange zest, and salt.
Transfer the mixture to a small baking pan.
Roast until the nuts are toasted, about 10 minutes. Remove from the oven and cool completely.
In a medium bowl, combine the toasted pecans, cherries, pepitas, and cranberries and mix to combine.
Serve as a snack!
---